By Lynda-Louise Tomlinson
Burjesta Theatre Company is unlike any other on Merseyside, "We wanted to do it our way", said Julian Bond and Mikyla Durkin in agreement, when I met them to learn more about the company.
"We want to communicate with Liverpool things that are relevant and important to them. We have both got something to say and have chosen theatre to say it."
They founded the company in October 2011, and have since produced, cast and directed over fifty shows. "It's our baby" said Julian, who believes "theatre is still not where it needs to be".
The venue of our meeting is the Casa, based on Hope Street. I am introduced to the venue and told of its history by Julian himself, who tells me of its strong association with the dockers of Liverpool after an industrial dispute in 1998.
The Casa is part of the Initiative Factory, a charitable trust set up by those that were sacked, to further the hopes and aspirations of the people, and alleviate poverty in Liverpool.
With Julian's great passion and interest in Greek theatre, it is no surprise that Burjesta's latest production was of Euripides' Medea, with an original adaptation by Burjesta member and poet, Jonathon Bibby. "It was one of our largest productions with a cast of sixteen, including two child actors, and an all-woman Greek chorus".
Although Julian and Mikyla claim to have "total artistic control", they also admit to their different approaches when it comes to directing.
"We never co-direct, we take it in turns" says Mikyla, as she admits that Julian has a much more laid back approach but their ethos remains. "We have both got something to say and we have chosen theatre to say it…all our plays say something, attack something. We are not an amateur company, we are social, political…there isn't anything more powerful than theatre."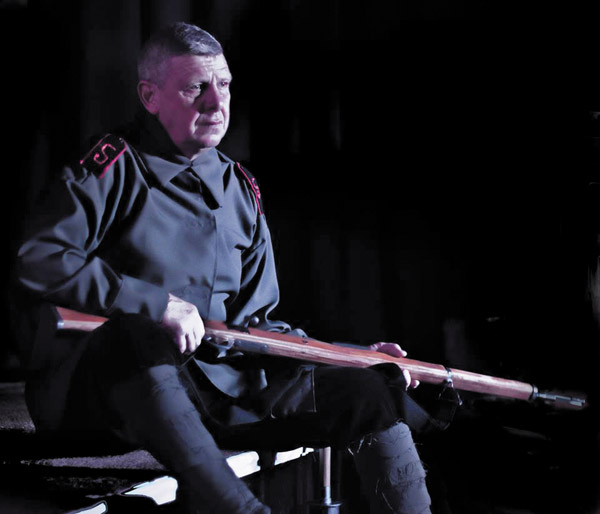 The process of casting a production begins with workshops, held at Burjesta's home, The Casa, every Wednesday evening. No experience is necessary.
"We have an open door policy", says Julian, "all we ask is can you act.
"Our members range from 11-70 years of age and everything in between."
The workshops allow the directors to try out ideas, to "find their feet", and also give the members the opportunity to "have a crack at directing themselves….from chaos comes creativity" say Julian, "and find orientation in disorientation."
As the workshops are open to everybody, so are the auditions, but future cast members must attend workshops in order to be considered for the closed auditions. "We give high priority to loyalty…rehearsals differ from workshops, they're high end and earthy."
The scripts are born and grow within devising sessions, and scenes come from improvisation into script, but as Julian continues to explain the rehearsal process, he certainly isn't as laid back as Mikyla may have suggested, and believes that the cast are "a much poorer group" without having built a relationship and confidence working with the other members within the workshop process.
The popularity and success of Burjesta is like in all companies, the responsibility of the marketing and promotion department and, in Burjesta's case, this also happens to be Julian.
Feedback forms are given to audience members, and there is a website, together with Facebook and Twitter accounts. As Julian believes, and I agree, that Facebook, although incredibly popular and useful, can't be your sole provider of promotion, and this belief is supported by the walls of the Casa being adorned with racks of leaflets and posters that I was subconsciously drawn to as I walked through the corridor.
Burjesta receive no funding for their productions and rely on the time and generosity of their volunteers. Mikyla, as production manager, reflects on their last production Medea, which only cost a total of £19 for production.
"No one gets paid, it's miraculous and intense making something out of nothing." Ticket sales, at only £2/£3 each, cover the costs of materials and set. "We don't want theatre to be for the elite", says Mikyla, as she explains how the work of Burjesta challenges stereotypes, promotes individuality and highlights "massive wide issues" such as class and the representation of Liverpool and the 'Scouse' accent in theatre and entertainment.
"Entertainment is dumbed down…insubstantial light laughter dressed up as theatre is nonsense."
The worst scenario that Julian can imagine is "a good show", as he believes that their work is "a serious responsibility… you want them to be the best…be proud of what they do."
Mikyla agrees. "The most precious thing in your life is time" and as people give a lot of their time to the workshop, rehearsal and performance process of any production "it has to be of high quality…to be proud of it…it's rousing stuff…theatre is not going to change the world but it is a good place to start."
Website: www.burjesta-theatre.co.uk/