Reviewed by Joe Coventry
Stephen Bower hails from Totnes but he loves coming to Liverpool. So much so that he has painted the town more than red whilst capturing the essence of some famous watering holes. Inspired by American Social Realist Edward Hopper he is happy to accept that this collection is nearer the French Impressionism of his other hero, Degas.
The View Two is an independent Gallery in Mathew Street and is just the right size for this show of 25 acrylic canvasses that are well worth a visit. The mostly 40x40cm or 50x50cm evenly spaced out pictures fill the space to a tee. One wag has come up with the title 'Two pints of paint and a packet of crisps' to describe this novel concept. The inside of the pubs on show will register high in the psyche of those who have bevvied in them, but what is presented here are rapidly put together impressions of the external facades and elevations.
So how does he do it? Well, by standing up outside in all weathers for a start. It's all about atmospheric effect, rather than capturing a definitive statement, that he is after. The scene taking shape is continually in transition. The arc of the sun, new shadows, twinkling lit interiors, itinerant Lowry like figures standing outside for a smoke, capturing tradesmen's vans before they drive off; that is what Bower is eager to capture. Colour, light, impression, time of day, viewpoint, size of hostelry – all are important to how the 'finished article' turns out.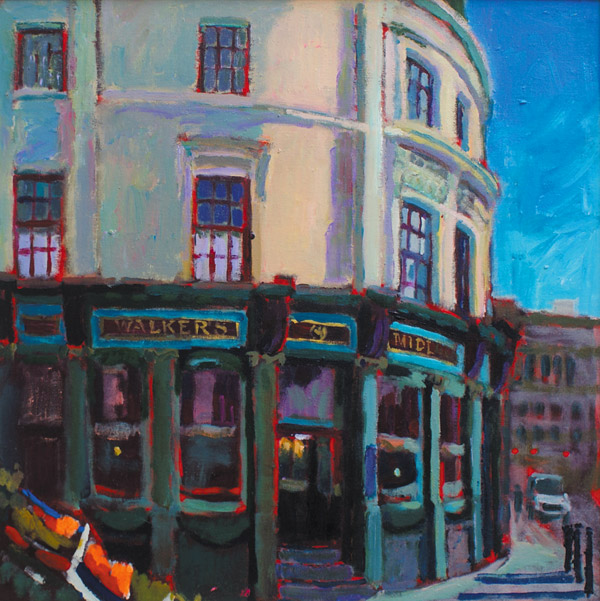 The Ship & Mitre's Art Deco exterior came out a mediocre grey after two efforts when viewed from under an overpass, while Ye Cracke's white frontage was phosphorescent when caught in some mid afternoon glare. The Belvedere in fading light, is caught with a garish Moorish splurge of yellow on its Sugnall Street side wall. With the sun behind him the sky is cobalt blue, as the purple and green outlines of the Midland Hotel opposite Central Station leave a distant Adelphi in the gloom. Conversely the John Lewis building is a dazzling cream while a splurge of orange on Sabastian's fruit stall leaves no doubt what has caught the artist's eye.
Whether it is the formidable, sombrely outlined storied windows of Thomas Rigby's, the almost Fauvist grandeur of the pink sky surrounded, cupola sporting Philharmonic; or the understated uniform simplicity of the Globe compared with the pillar box red of Coopers' next door in Cases Street: everywhere it is the essence of the place that Bower has tried to capture, rather than the ideal and for me it worked very well.