Reviewed by Colin Serjent
Having reviewed a book based on the history of Southport earlier this year, called 'Southport History Tour' by Hugh Hollinghurst, it was a pleasure to receive a review copy of his follow up book, 'Southport: The Postcard Collection.'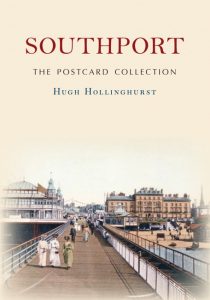 Like his previous publication this is another fascinating and revealing insight into the famous coastal town.
There is a very wide range of postcards included, in all totaling over 180, all with full detailed explanations of each of them.
Among my favourites were the promenade, old and new, the original first built in the mid- nineteenth century.
Another was an illustration of Southport Pier, which opened in 1860, that Hollinghurst described as being built "at the height of the pier building era. It was the largest in the country, and its 1200 yards were later extended by 260 yards to reach the deep-water channel."
Others to catch my eye were postcard scenes of early fairground rides; paddling pools and play grounds; the bathing pool and lake; various images of Lord Street; the Edwardian bandstand; the Wayfarers Arcade; and depictions of various parks and gardens in Southport.
As Hollinghurst pointed out in his introduction to the book, "Frequent postal collections and delivery meant that they (the postcards) could be used for everyday communication. Colour printing made it attractive for visitors to send greetings and advertise the delights of the result."
Hollinghurst has written many books on local history for Amberley Publishing.
This is another tour de force by him.
www.amberley-books.com/southport-the-postcard-collection.html