Reviewed by Colin Serjent
Reading this impressive pocket sized book brought back a lot of memories of my childhood and teenage years. My family used to live on a farm in Scarisbrick, four miles from Southport, during Spring and Summer, and very often we used to visit the seaside resort, which was a lot different then than it is now!
Of particular interest for kids was the magical funfair – one of my favourite rides was the ghost train – and building sand castles on the beach while my mum and dad dozed in deckchairs. Simple pleasures but produced a lot of fun.
Southport History Tour is the latest title in Amberley Publishing History Tour series, and is yet another, as they aptly describe it, 'A guided walk through the history of a local town.'
There is no question that Southport has inevitably changed in the past 50 years or so, and in a detrimental way, sad to say.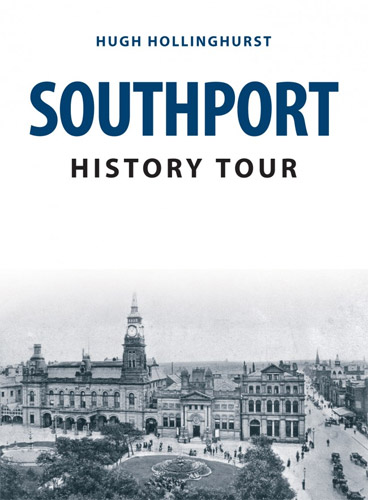 But this book illustrates, with a series of archive images, when it was a desirable place it used to be to go to.
Local author and historian Hugh Hollinghurst takes you to the parks, coastal spots, streets and open spaces from bygone years.
The 50 pictures used – monochrome photographs being colourise – include dancing, with, bar a few exceptions, everyone wearing hats, at the Botanic Gardens and people rowing in boats by the adjacent Botanic Garden Conservatory, which resembles the Sefton Park Palm House.
Lord Street, a main shopping thoroughfare in Southport, is also featured in a scene from the 1930s, which housed the Wayfarers Arcade which opened in 1898. What a delight it was to wander around the arcade.
Two main attractions of the beach in Southport was a water chute, which propelled you on boats into the lake, and the Maxim 'Captive' Flying Machine, which whirled you around in pods.
One omission from the book is the lack of any image relating to the funfair area, which was a very popular attraction for kids and adults.
But nevertheless it is a memorable tour of the history of Southport over the past 100 years or so.
The cost of the book – £7.99 – is a snip.