Bixteth Street Gardens, along with St Nicholas's Gardens, are the only green spaces in the 'commercial district', a name that belies the fact that many people live in this part of the city too.
But the garden also provides respite for hundreds of local employees who use it during their lunch break.
Mandy Williams works in nearby Exchange Station.
She said: "No consideration has been given to employees in our building who will be unable to work due to demolition work, maddening and messy disruption.
This is the only peaceful and reflective space in the area for local residents who live in the flats. This will impact detrimentally on their physical and mental health."
The park is home to a thriving population of rabbits, bats, birds and squirrels, and bees have been seen in abundance this summer.
Liverpool City Council have instructed Kier Development to come up with a scheme for the area, arguing that the city lacks Grade A office space which is an impediment to progress. The scheme also includes a 5 star hotel.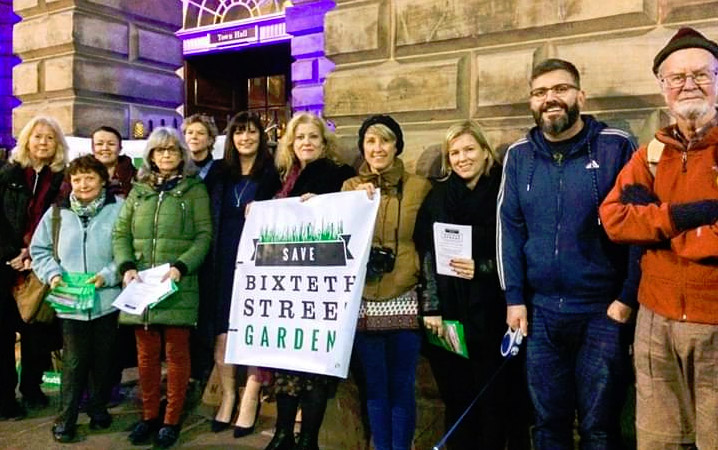 If permission is granted, Willmott Dixon will begin the land remediation early in 2019 and the current plan will see a reduction of the green space by 30%.
Cllr Nick Small, who is supporting the campaigners, said: "It was great to see so many residents lobbying councillors at the Town Hall, joining with other green space campaigners like 'Save Caldies' and 'Save Oglet Shore'. 'Save Bixteth Gardens' seems to be gathering momentum."
Bixteth Park is the latest green space in the city region to be earmarked for development, but this is against a backdrop of worsening air quality.
According to World Health Organisation statistics, Liverpool is one of the worst cities in the UK when it comes to air pollution, with a measurement of 12 PM2.Fs per cubic volume of air. The healthy maximum is 10.
Alex Beavan lives in nearby flats. He said: "The gardens are the heart of a growing residential community and walking my dog there has not only led to new friendships, but also a sense of belonging and connection with the city. Without places like Bixteth Street Gardens the city will lose its personality, taking away the essence of what draws people to this wonderful city."
More information can be found on the 'Save Bixteth Gardens' Facebook page and @bixteth gardens on Twitter.