Interactions Festival
Capstone Theatre, Liverpool
20th -21st March 2018
Reviewed by Joe Coventry
Photo above of Shatner's Bassoon
There was a very healthy turnout to see The Necks, the exceptional Australian trio who have been around since 1986. You are unlikely to see a better band playing long form improvisation anywhere. It's hard to believe that the complexity and volume of noise created by Chris Abraham (piano), Lloyd Swanson (bass) and Tony Buck (drums) manages to sound more like an orchestra.
They never play the same piece twice. Tonight's performance started with some scratchy bass and the pianist scratching his head, while ankle high rumblings and a tinkling of bells came from the drums. There is no leadership or context to the music as each of the trio contribute at will to what has been produced up to then.
Hermetically the soundscape builds in intensity until a miasma of noise assails the senses through the repeated subtle shifts and layering formed in the process. It's an hypnotic experience as positive or negative feedback loops add exponentially to the waves of noise being generated. It can be difficult, but keep your concentration and you won't be overwhelmed.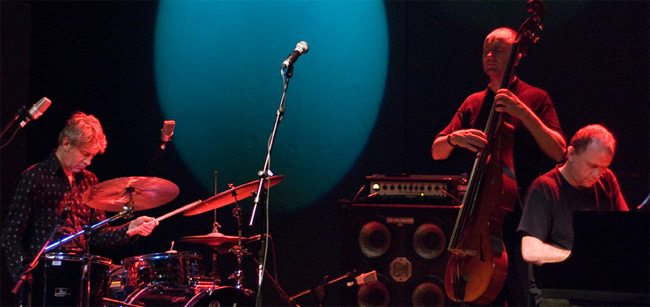 Their second 45 minute compilation on the night made no attempt at tune or rhythm, it's incremental minimalism first developed in the bass, then had the piano off the scale resurrecting a go-stop-go barrage, before an energy sapping drum led circulatory coming together of pandemonium proportions. Their free expression grows out of a mantra of retention, detention and invention and it certainly reaches the parts other exponents can only aspire to.
The following evening the turn out was not so good. That did not put a thirteen strong line up under the banner of Centrifuge walking on the stage for what turned out to be a 30 minutes longer than intended(?) serial exposition of random sequential outpouring. It was not always easy to understand and at times jarred on the ear.
In the ambition of 'taking the music to undiscovered places' the full panoply of saxophone, trombone, guitars, drums, piano, gibberish or otherwise voice, various exotica, like ball bearings, swirled in a dish and assorted electronica all came to the party unhindered and raring to go. Formed ten years ago this British-based combo is still developing the project of filling its centrifuge. We shall see.
After the break Shatner's Bassoon headlined. The Leeds-based outfit were underwhelmed by the turn out, Oliver Dover on sax commenting wryly that 'nights like these were made for us'. Well the genre is not everyone's cup of tea.
They play in a tight bubble with a sense of concord and hints of melodic line in their structural loops. It's an interesting sound which is not open ended playing three distinct pieces. In Game there is a young dudes thing to drown each other out, the bass of Bardon and Richards' keys to the fore. There was a verve, vitality and passion to their playing as they extrapolated to a head banging climax with the baritone sax enjoying himself.
They ended with a short sharp shock fluid space filling outpouring in which the continuation links were a bit too contrived, but the drums of Hendricks were not to be denied. Enjoyed them.
The Interactions Festival here has added to the ever changing musical landscape. Well done to Capstone for bringing it all together.