Egg Cafe, Liverpool
Continues until 18th April
Reviewed by Joe Coventry
In a short statement on the wall by the servery hatch Kate Fallon-Cousins outlines what this show is all about. For her what really matters is a love of the universe, human beings and the beautiful things that have been produced by them over the centuries on our planet. Her series of untitled compilations at first sight appear simplistic, but on closer inspection there is much to discern in each collage.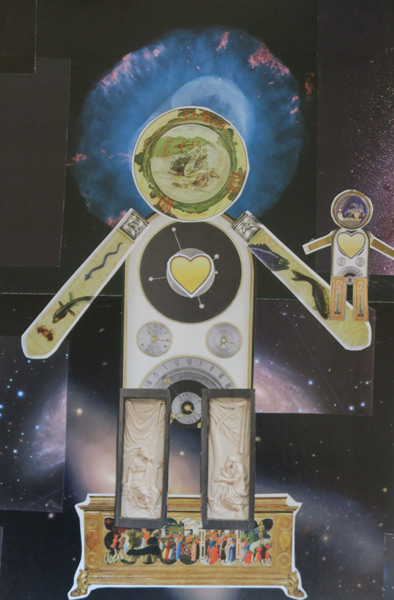 Common to them all is a cosmic background element which is pieced together from random snapshots of the Milky Way in all it's awesome diversity. Superimposed over that is an exoskeleton framework suggesting the human body as a single, duo or triplet combination of forms; perhaps young lovers, a mother and child, siblings or family units. There are also images representative of sage eyes staring out at the viewer from giant urns or pots.
The next stage is to then infill each outline with the exotica of creative thought and artistic artiface. What you might get are heads bedecked with jewels or made out of finely painted plates, or some containing famous figurative artworks. There are arms consisting of montages of grandfather clocks or stylised intricate wooden carvings and legs depicting oriental vases, or statues with mantle timepieces for feet, while torsos are emblazoned with religious icons or paintings.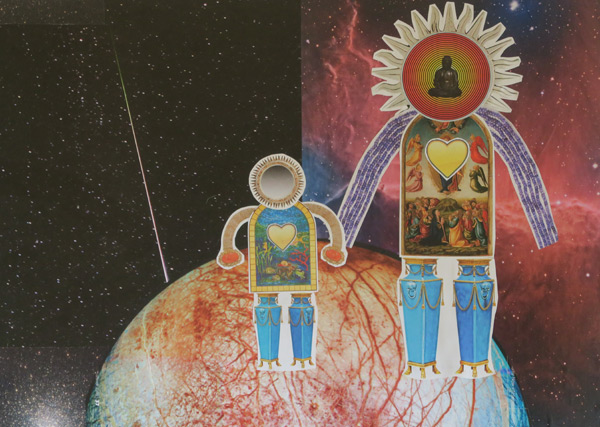 Superimposed over everything, and central to the concept behind the show, is the inclusion of an abstract heart, not necessarily where it normally beats in the body.
Although not a huge exhibition the artist has spent a considerable amount of time compiling the intricacies of each of these works. They can be read as valid stand alone images in their own right, but there is much commonality of design and intent amongst the works to justify giving them some attention the next time you visit the Egg Cafe.