Pictured: Alan Barnes from Everyman & Playhouse Theatre
Passengers on board Arriva buses were treated to stories on the bus throughout May in support of National Share-A-Story Month.
To help families celebrate the power of storytelling during National Share-A-Story month (NSSM), Arriva teamed up with volunteer storytellers from the Everyman & Playhouse theatres reading stories on board the bus throughout May half-term.
Those travelling on popular routes throughout Merseyside were also surprised with North West related poems left on seats, provided by The Reader, to inspire and entertain passengers on their journey to work.
Lisa Pearson from Arriva North West & Wales said: "We thoroughly enjoyed teaming up with the Everyman & Playhouse theatres for National Share-A-Story Month. We wanted to create an experience on board the bus that the whole family could get involved with, to make the commute a little more enjoyable with an added dose of theatre and poetry."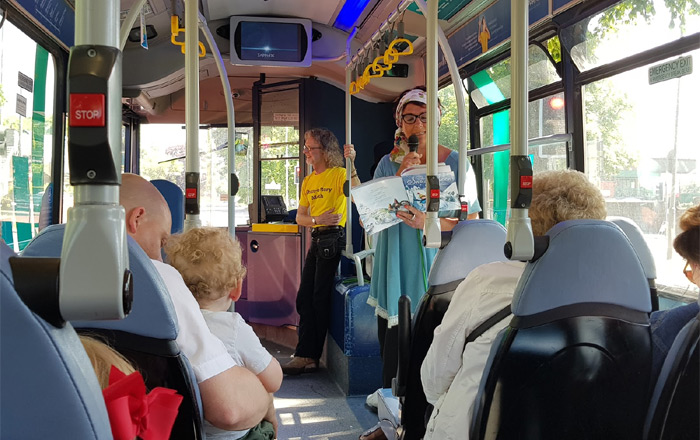 National Share-A-Story Month (NSSM), is an annual celebration of the power of storytelling and story sharing, and looks to bring children and stories closer together.
Louise Stothard from the Federation of Children's Books Groups, who created National Share-A-Story Month said. "It's fantastic that Arriva and the Everyman & Playhouse have come together to celebrate NSSM on the 50th anniversary of the Federation. The core aim of the organisation is bringing children and stories together. The activity in the North West was a great way to bring the whole family together to celebrating storytelling and poetry, and that really is a wonderful thing!"