Exhibition by Jamie Reid
The Florrie, Liverpool
Until 18th October 2016
Reviewed by JJ Schaer
The Florrie is currently hosting Jamie Reid's exhibition 'Casting Seeds'. Reid became infamous in the 70s with his work with the Sex Pistols, designing their record covers and using them as the focus of a number of artworks. His cut up newspaper style and defaced portrait of the queen have now become iconic. This exhibition is part of a number taking place across the country to celebrate the fortieth anniversary of the birth of the punk movement.
The exhibition is a retrospective of his work, with pieces on show spanning five decades. It covers the three floors of The Florrie and there are a large number of works on show in a number of different mediums.
The pieces take you on a tour of Reid's career. Starting with his early punky days, it moves on to pieces from his anarchist publication 'Suburban Press', his work with other bands and controversial pieces like an image of John Wayne he doctored to be wearing red lipstick. There are a couple of huge collages dominating some of the rooms, as well as some unusual pieces, like a bespoke tipi and a bed laid out with an obscene punk bedspread.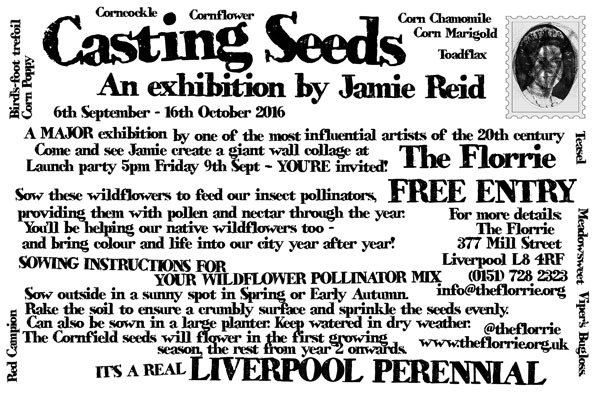 The name 'Casting Seeds' is taken from his most recent work. Thousands of postcards with Liverpool wild flower seeds are being distributed so that people can plant them where they see fit. A way of spreading some anarchy in a non-violent and quite beautiful way.
I've now been to a number of exhibitions at The Florrie and am always pleasantly surprised by the works on show. For a relatively new and community based centre the exhibitions are always well curated, extensive and of a provocative nature.
The restoration project that has been taking place there over the last few years is truly impressive. I am always curious as to what they have to offer next and that's not something I can say of the larger galleries throughout the city.