The Arts Club, Liverpool
Saturday 11th February 2017
Review by Kevin Lea
This will be the 4th time watching Julian cope live over a 17 year period, so I asked myself, why watch again as he may perform the songs I have already witnessed live. Well, obviously, there may be new be new songs to perform but, and only in hindsight is this realised, Julian as with many other artists I have watched live more than once, is older, wiser and with new comments to observe, plus, the world is a comedy hotbed at the moment, Donald Trump, Nigel Farage and Boris Johnson, the views of many a conscience led musician, author, actor and so on, have altered since last November and along with Brexit, so much has been said and so much more to say. That is why artists such as Julian H Cope, even with his altered view on the world are vital and evolving views from him, keep us fans returning to venues such as the Arts Club for tonight's concert, but let's concentrate on the musician tonight, not the author or outspoken citizen.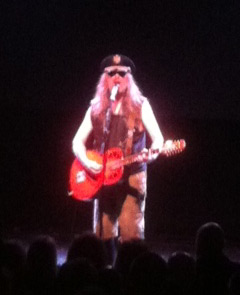 Unbeknown to me, the stage for tonight's gig was not the upstairs venue, but a hidden gem at the rear of the club. The sloping venue was perfect for the smaller section of the crowd standing at the back and being surrounded by three small, but perfectly placed bars, no punter went thirsty. Julian was organised tonight, his merchandise store sold various items of which I purchased, including a poetry book and a t shirt and the seller was very eager for me to dispose of my irreversible animal fat £5 notes. The crowd had now given up abstaining and their impatient voices steadily getting louder, awaiting the arrival of 59 year old Julian.
Julian entered the stage wearing his military cap, shades, leather vest and boots and chatted away in his posh and deliberate tone about life, even reminiscing about previous band, the teardrop explodes, plus the modern day politics debacle with Donald Trump being the butt of Julian's observations, but Trump is a target for most socially aware entertainers today. The music was acoustic tonight and after performing several songs between dialogue such as 'double vegetation, 'treason', 'greatness and perfection of love', as well as new songs ' liver as big as hartlepool' written as a challenge from radio 6 disc jockey, Mark Ratcliffe in response to one time arch musical enemy, to which Julian had many, Pete Wylie's song 'Heart as big as Liverpool'. Julian then performed his self-penned funeral song 'As the beer flows over me', admitting to the captive audience, 'I am getting old!!'. The dialogue continued with Julian telling the crowd how his wife of 33 years, 'Dolores', gave him permission to experiment with magic mushrooms again, picked from Stonehenge. There were more humorous observations about Donald Trump (there can never be enough), before departing the stage and promising the audience no matter how much they heckle, he will return for an encore, playing the brutally honest, 'Pristeen'.
The 11 o'clock curfew kicked in and the bright lights confirmed tonight's gig was over. Tonight was Julian being his usual persona, a little more battle worn, but as usual, with something interesting to say, maybe that's why we keep returning to watch artists such as Julian H Cope.