7th to 10th March @ The Casa, Hope St, L'pool
Tickets £10 – casatheatre.co.uk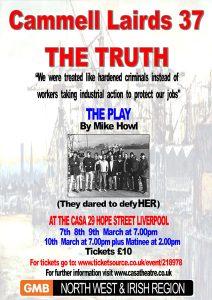 In 1984 37 men were jailed for one month for defying the Tory government, fighting for their jobs and the whole of British shipbuilding….
'Cammell Laird's 37 the Truth' tells the story of the battle for jobs, livelihoods and communities fought on the Mersey in 1984. Brought to The Casa by Mike Howl fresh off the success of previous plays 'More Scouse Saddam' and 'Lost Tribes of Everton'.
Tickets are selling fast with Friday night and Saturday night shows already sold out.
Performances –
Wednesday 7th March, 7pm
Thursday 8th March, 7pm
Friday 9th March, 7pm (Sold Out)
Saturday 10th March, 2pm
Saturday 10th March, 7pm (Sold Out)
For tickets go to casatheatre.co.uk or call into The Casa and pay at the bar