Nerve feature writer Lisa Worth has written an article about the People's Vote March, which took place in Liverpool on Sunday 23rd September.
The temperature was bitter on the Mersey, but that did not deter a gathering of thousands from all over the country, making their voices heard and calling for the Labour party to support a People's Vote.
Every demographic was represented as the march slowly moved through the city centre to the riverside and, although respectful, it was easy to feel the anger and frustration that seethed.
Connor Alonnzi, 22, is an administrator in Liverpool.
He said: "I had to come to this today. I feel very angry that my future will be hijacked with fewer opportunities than my parents had, and especially as it was based on so many lies.
I'm frightened of the future to be honest. It's difficult to believe."
Labour politicians stood side–by–side with the electorate to listen to speakers – among them David Lammy M.P, Tim Roache of the GMB, Liverpool Mayor Joe Anderson and Everton FC legend Peter Reed – who all took to the stage imploring the Labour leadership to listen to their message.
Peter O'Neil, 48, and from Runcorn, spoke of his own fears as the UK's exit deadline in March loomed.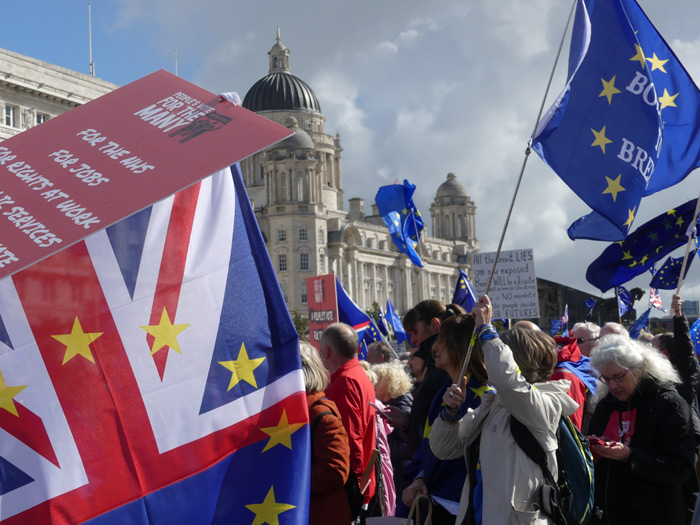 He said: "Whether you're a leaver or a remainer, the situation is terrible. Whatever is decided, it's all been so shady that we should have a right to make our own minds up about the final deal now we know more facts."
David Lammy's speech was impassioned, his words aimed at the Labour leadership.
Staring squarely in the direction of the convention centre hosting the annual conference, he said: "Can you hear us Jeremy Corbyn, can you hear us John McDonnell?"
He explained how he would like nothing better than for a General Election to see the end of the Tory government, but he cast doubt on Parliament voting for it.
He said: "Those that say let's have a general election cannot name one member of the Tory or DUP party who would vote for a general election," adding that, "people's vote is the only option on the table."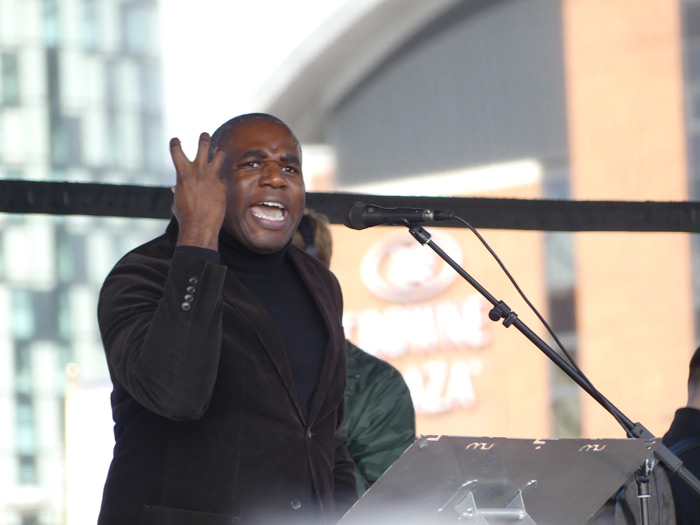 As the sun broke through the clouds the sky was far clearer than the murkiness that the British public is trying to make sense of.
A French news crew covering the event seemed to sum it up while awaiting their guest, Mike Buckley (director of Labour for a People's Vote).
On the phone to his studio the interviewer described his guest as someone who "apparently can clarify the Brexit position of the Labour party – finally."
It seems that the impatience with the situation is not confined to within British borders.