In partnership with NW UNISON the Plaza are to host a special FREE screening of 'The Happy Lands' (12) on Tues. 17th May at 7.30pm.
The event is to mark the 90th anniversary of the General Strike and will include a screening of the above film plus special guest actor Bill Gilby, will talk about the making of the film and how the whole of the local community were involved in the telling of their own stories.
To accompany the event there will be a small exhibit of archive material relating to the General Strike, including a timeline of events in Liverpool by Adam Ford reprinted with permission from NERVE magazine.
The film is a joint production with the local community of Carhill in Fife and Theatre Workshop Scotland. Theatre Workshop Scotland worked with the local community, a former mining village, on a local history project that included archive research and the recording of oral histories of surviving family members who had either lived through the General strike or had been impacted by it. These stories and reminiscences formed the backdrop to the film. Such was the engagement of the community of Carhill that many contributed to the script development, some played the parts of their grandparents whilst others helped make the sets.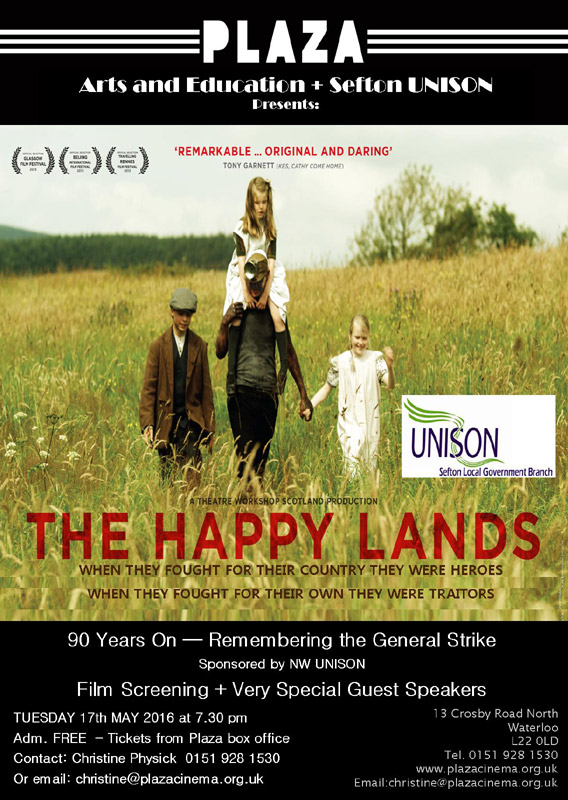 Thanks to sponsorship from NW UNISON the event is free for members of the public and a chance to see how theatre and film can bring the hidden histories of people in struggle to life. If you would like any further information about the event please let me know.
More Info:
Screening on Tuesday 17th May 2016 at 7.30pm
Plaza Community Cinema
Address: 13 Crosby Rd N, Liverpool L22 0LD
Phone:0151 474 4076
Website: http://plazacinema.org.uk/