A call for the end of Women's football
By
There was a time when women's football was just as popular as men's. For example, on Boxing Day in 1920, Goodison Park was packed to its 53,000 capacity, with an estimated 10-14,000 people unable to get in. Dick, Kerr Ladies Football Team were taking on their arch rivals St. Helen's. Although this was the highest ever recorded attendance for a women's football match in the UK, games were regularly attended by tens of thousands, often drawing far larger crowds than the men's matches. Given that women played for the purpose (apart from fun) of raising money for a diverse range of causes - often linked to the war - the game was viewed in a post-war, economically-ravaged, Britain as a charitable goldmine. Indeed, in 1921 Dick, Kerr's had to refuse about 120 invitations from MPs and Mayors around the country. Such matches were played under a staggeringly ceremonial atmosphere with welcoming parties composed of local dignitaries, brass bands accompanying the players onto the pitch, celebrity 'kick offs', and grand post-match civic receptions. Players such as Edith Hutton, Sue Chorley and Polly Scott were literally household names in the 1920s.

However, for those involved in such civically esteemed activities - who in today's figures raised millions -, to use a cliché, 'their game was up'. In 1921 the F.A. consolidated its erstwhile efforts and officially banned women from being affiliated. 'Expert' medical opinions were used to bolster the view that it was in the best interests of everyone that women did not play football. For example, in 1920 a Dr Arabella Kenealy published the laughably titled report, Feminism and Sex Extinction. She warned of how 'over-use, in sports and games, of the muscles of shoulder and chest, occasions atrophy of mammary glands... such sterilisation, where it is not producing actually diseased and degenerate offspring, is producing a pitiful race of pallid and enfeebled babes and children'. This view dovetailed perfectly with the concerns expressed that year by the National Birth Rate Commission regarding falling childbirth rates. Suddenly the nation was doomed if women carried on playing football.
Women did of course continue to play, with games occurring on Rugby pitches or wherever else, but it was no longer the event it had been and attendance figures dwindled accordingly. Even when Dick Kerr's Ladies Team went on tour to Canada in 1922, the English F.A. had already contacted their Canadian counterparts to urge them not to allow the team to play and the Canadians duly acquiesced. Going south to the U.S. these women, who had improved the lives of so many back home, were told that they could only play men's teams. Dick, Kerr's played the six strongest U.S. men's teams at that time and only lost two matches, drawing two and winning two others. Matches were attended by between four and ten thousand people - far more than had attended a tour by a British men's team just before them. However, unfortunately for those involved, this tour did little to reignite support for women's football in the UK.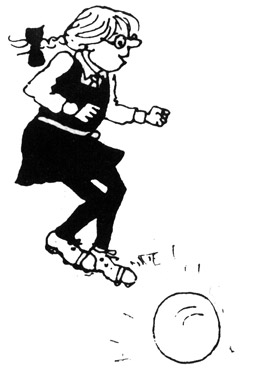 WHY CAN'T I PLAY FOOTBALL?
Why can't I play football?
Is it because I'm a girl?
Or is it because I'm rubbish
Oh, why can't I play football?
I'm allowed to practice with the boys
I'm as good as most of them,
But they won't let me in their team,
The teachers say its not their fault
They say it's just the rules
Oh, why can't I play football
When I grow up I'll change the rule
And I'll let my sisters play
And we'll beat the boys
That's what they're frightened of anyway.
Georgina Ayers - Age nine
From Merseyside Women's Paper,
Summer 1980
Pat Ayers (Georgina's mum) told Nerve the story behind this poem. "Georgie was very angry because her dad ran an under-twelve team which she trained with, but was not allowed to play in. By the boys' admission she was better than many of them (there was fierce competition to be in her five-a-side team in the school's annual knock-out competition) and the poem was a response to what she perceived to be a profound injustice."
To this day there is still no professional women's football league in the UK. Only this April was the Women's Super League established by the FA for eight teams of semi-professionals. When the Sex Discrimination Act of 1975 became law, football was exempted, because, according to section 44, while, 'women have many other qualities superior to those of men... they have not got the strength or stamina to run, to kick or tackle, and so forth'. While numerous amendments have since been made to the Act, section 44 has remained inviolable. The 2010 Equality Act did nothing to change this. On account of pressure from UEFA, it was not until 1971 that the F.A. even formally recognised women's right to play on football pitches of its affiliates. In 1984 the FA allowed the Women's FA to affiliate, with the latter disbanding in 1993 as the FA took full control of women's football. One cannot help but think of Cinderella (although without the happy ending).
Today, in the 'home of football', there are little more than a handful of semi-professionals and thousands of amateurs. Games often occur only after the men have finished and left the pitch, changing rooms and clubhouse in tatters with a referee that is conspicuous by his absence. As the picture above demonstrates, spectators are sparse to say the least. People such as Fifa president Sepp Blatter argue that more people would watch women's football if the players just wore "tighter shorts". Indeed, just before the women's world cup this summer (not even shown by the BBC on terrestrial TV) five of the German youth squad posed for Playboy. The Daily Mail delightedly commented: "What better way to promote the women's World Cup than for your national side to show off their new strip?" Meanwhile Nike promoted the jerseys they made for the US team as ones that create "a uniquely feminine silhouette".
Not only is this attitude breathtakingly patronising towards the players, but towards the spectators as well. Perhaps men and women are not going in droves to watch women's football simply because of the standard. After all, the fact is that until recently the majority of players in the Women's Super League (previously the Women's Premier League) had not even played football during their formative years at school. Could it be here that the crux of the problem lies? At school there are no teams for girls to get involved in. Indeed, in the founding charter of the English School's FA (1904) - when women's football was reaching its zenith of popularity - , the objective of the Association is defined as: 'The mental, moral and physical development and improvement of school boys through the medium of Association Football'. Just two years before the FA had prohibited men and women from playing together or against each other. The ESFA amended its constitution in 1991 but the FA continued to ban mixed football entirely until 2001 when it moved to permit mixed games among under-twelve's. This policy was forcefully demonstrated in 1978 when an appeal was filed by the FA against Newark County Council. The Council had decided that twelve year old Theresa Bennett was being discriminated against by not being allowed to play for her local boy's team for which she had been selected upon the basis of merit. Presiding Lord Denning upheld the appeal by arguing that, 'the law would be an ass and an idiot if it tried to make girls into boys so that they could join in all-boys games'. Theresa had no choice but to hang up her boots simply because she was female.
It is not being suggested here that the English premiership would suddenly be awash with women if mixed playing was allowed and encouraged. But if the UK aims to be a meritocracy then the normative objectives is equality of opportunity but, as things stand, and have long stood, for half the population there is practically no opportunity whatsoever to develop an interest in playing football. The argument that women are 'naturally' not as suited for the rough-and-tumble of football as men are - and should therefore have their own game - could easily apply to other sporting events and categories. For example, who was the last white man in a 100m final (let alone win it)? Should we therefore have separate races depending on colour? Should China not be allowed to compete in table tennis, badminton or gymnastics competitions with everyone else as they win too much? Should Kenyans and Ethiopians be told to have their own marathons? No, obviously this would all be ridiculously racist and completely contradictory to the idea of competition. Therefore, it follows to reason that the separation of men from women in competitive sports is sexist and, as such, there should be no women's world cup. Besides, my team could do with a few players like Martha.