An interview with Stealing Sheep
Words and Interview by
Unless you've been locked in a space station this past year you will probably have heard the name Stealing Sheep on the tip of many a music fans tongue both inside and outside of Liverpool. If not from one of the words of mouth you'll have read about them or seen them play. Indeed there is buzz about Stealing Sheep and it's not just from their humorous imagery inflected appellation that this buzz comes. The buzz comes from the fact they make unique, ear catching music that has charmed many a music fan and all the music critics that the city can muster and beyond!
It seems like a long time since they came storming onto the Liverpool scene with their Psychedelic inspired folk but it is in fact just under two years. Having seen them in performance many times I wonder how the band came together. Did Stealing Sheep come from a happy accident or the intent to make a band? 'The idea to make a band with Emily and Lucy was intentional. We had seen each other play in other projects and thought all our styles could mesh together well. We started playing together as strangers and knew each other musically before we knew each other as people and it seems the closer we get, the more intuitive the music becomes...'
As evidenced by the continuing popularity of the bands EPs The Mountain Dogs and I Am The Rain there is a certain anticipation for the album that many may know they have been recording. But can too much of said anticipation somehow lessen the impact of an album? I ask Becky: 'I suppose there is a lot of hype surrounding the kudos of debut albums but we don't really see it like that. An album to us is like a more indulgent and exploratory space to make music. If people liked the first two seven's they should see the full LP like the next chapter to these stories, songs, ideas, sounds and concepts'.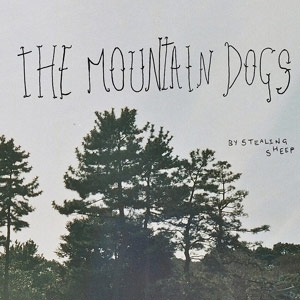 The band has come a long way in a comparatively short time from Liverpool scene mainstays to nationwide tours. In fact, it seems that the band is never not touring! Do they ever want to take a break or are gigs like water, so to speak, for Stealing Sheep? 'Liverpool is the perfect base for bands to cultivate their sound in the small and interesting scene that exists here but it's so important to tap into other cities around the world and get glimpses of what's going on elsewhere. Live shows give us a good rush and helps improve our music'.
Tapping into the theme of this issue, the Liverpool music scene is on the surface quite male dominated. Music fans generally enjoy the music regardless but do they think that the recent surge of female fronted bands has been organic or a result of influence from bands such as Stealing Sheep? 'We've definitely shared most of our bills with blokes throughout most of our gigs this year but there does seem to be more girl bands cropping up on a national level, bands like Warpaint, Peggy Sue and Mountain Man are giving credibility to the 'girl band' formula and it's no longer a shameful label that conjures up images of busty sex kittens with pretty voices. As for Liverpool it has a wealth of excellent female musicians, bands like The Long Finger Bandits, The Worry Dolls and The Staves have actually inspired us rather than the other way around.'
Finally to one question that can get answers as fun and wild as you can imagine. What is the best thing about being in a band? 'Writing a killer song!' comes the reply quickly. And with so many of them already under Stealing Sheep's belt it's no surprise that their 'tick list' for the future includes such delights as 'creative music videos, conceptual albums, films, festivals, tours of North America and Japan, Later... with Jools Holland and collaborations with Animal Collective, Bjork and Snoop Dog' If you put it that way, let the future commence!
Look out for a 'pre-album mini-album' from the band soon. In the meantime, catch them around Liverpool soon and you won't regret it.
Comment left by jules ratter on 20th May, 2012 at 11:24
Sadly the male domination of Liverpools music scene still exists, SS were only one of 2 Liverpool female performers nominated for a local music award compared to 10 male counterparts. Still is sadly a lads club in the city and is sadly further perpetuated by most local music journalists