Liverpool Centre for Arts Development
Set up in the aftermath of the Toxteth riots in 1981, the Liverpool Centre for Arts Development (LCAD) has since flourished, predominantly helping women to overcome barriers they face in returning to education and the workplace.
Despite changing their name twice since then their overriding aim remains the same, said centre manager Colette Casey. "We use arts and culture as a means to challenge and change dominant practices and values."
Based in Liverpool city centre they work with arts and creative practitioners from across Merseyside.
"We strongly identify with working with the most vulnerable groups in the region", added Casey, "and as a result we have had a long relationship working closely with the local black and racial minorities and helped support their development and training within the creative industries, with many success stories."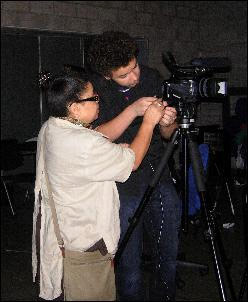 Asked why the various courses they run - many of them run by women - particularly appeal to females - totalling on average 80% of their students - she commented it is mainly because the centre pays for all childcare facilities, even if a mother has more than one eligible child.
But she also emphasised that men are very welcome to attend courses at LCAD (the writer of this article being one of them during the 1990's).
LCAD are proposing to run a new course, specifically for women, titled WAVES (Women's Arts and Vocational Employability Skills), a VQ level 2 certificate, and a creative photography course.
"The aim of this programme," stated Casey, "will be to work with women who wish to return to work but have no confidence or self esteem.
"It will use the arts as a tool to build confidence while learning basic skills and a greater understanding of the work environment."
Other examples of training programmes they have run include Women Into Arts Management, Creative Entrepreneurs (Business Start Up) and Community Arts Management.
The centre received a major boost to their future plans in 2010 when they received £350K from the Big Lottery Reaching Communities fund, spread over three years, for the running of their Community Arts & Employment Skills programme.
Website: