Public art with a Revolutionary message
Temple Street, L2
From 25th Oct – 20th Dec and beyond
Reviewed by Ritchie Hunter
In Temple Street, just off Victoria, there's an 'olla'* destined for development. On the walls, sandwiched between two high buildings, is hung a collection of art that challenges our view of the old and the new, of protest and symbolism, and of how images can be used to represent so much more than just the written word.
"'The People's Gallery for Red October' is here for people who don't usually go to galleries" says Audrey White, one of the organisers. "It marks 100 years of the Russian Revolution, and it celebrates protest.
"From the 47 councillors to the champagne bankers, from the Hillsborough Campaigners to the disaster in Grenfell Tower, this art shows the struggle and resistance of the 'many' to the injustices in our society."
As you enter the 'Gallery' high up on the wall Lenin stands next to the inferno of Grenfell. Opposite are Asian tigers grappling with bulldozers. "We didn't put captions on most of this art because we want people to make up their own minds about what they represent. Everyone will have a different interpretation."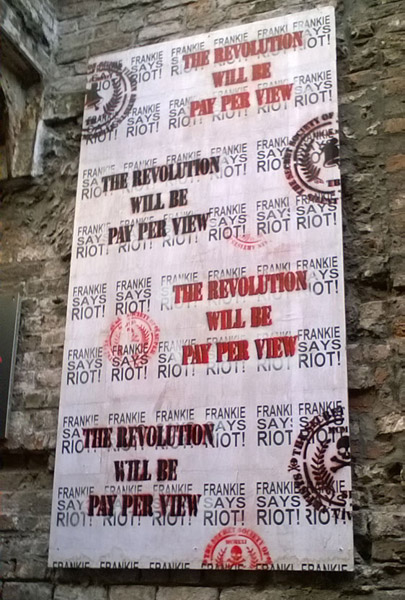 Look closely at this art, it's full of hidden meaning. See if you can spot the nod to famous images, or the subtle reference to events in the bench dedicated to Grenfell. See the contempt of authority for the homeless in a paving slab, and the series of ceramic labels, at the rear of the exhibition, strung over from one wall and back. Deep feelings are concealed, but it's worth seeking them out.
All this art was collected in a matter of weeks from local grassroots artists, many of them young. Just shows what can be achieved by people pulling together with little or no resources!
It will be on display for six to eight weeks, or until the 'olla'* is built upon. What an imaginative and inspiring use of a derelict space!
The full list of art in The People's Gallery:
Kiwi
Lenin/Grenfell
Gender neutral
Don't forget the Joker
Bitty
COCKACiD
Bear Faced Lies.
Silent Bill
Bored board
Lenin was my favourite Beatle
Designated Sleeping place
The Brass Monkeys
Bench.
HEX
Rebellious Nature
Uri
Ian Watts
Anti racist/fascist photo
Nina Edge
Tipu Tigers
Peter O'Neill
Poetry and Art.
BETAROCK 75
Train
Phil Maxwell
Bankers and Bollinger
Barcode
Belfast Mural Artists
James Larkin
Susan Leach
Ceramic piece (anti-slavery)
Various Banners from protest groups
A big thank you to Peter Morrison for helping to organise the event and for tracking down the James Larkin artwork.
*Olla is a term we used as kids to describe a space where a building once stood.