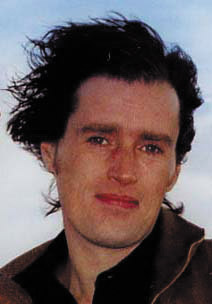 By Gayna Rose Madder
Very infrequently one encounters an artist who is so individual, so uncompromising about his work and life, and for whom 'normal' rules don't apply, that it can be difficult to anticipate what will happen next, or what direction will be taken – as well as troublesome for that person to live an uncomplicated life.
Terry Kane, as he was known to his many friends, and who has died aged 44, was such an artist.
Attending the Fine Art Foundation Course at Liverpool Hope Street Art College in the late 1980s, he met many colleagues with whom he remained friends for years.
I spoke to one who described him as being, even at that age, a 'Parisian painter in Liverpool'.
Early influences included Pablo Picasso and the Cubists, particularly in terms of colour. As a prolific painter, however, he had his own distinctive style from an early age, and many, including some tutors, believed he had the talent to become a major established artist in his own right.
In fact he always was a successful artist, selling, giving or bartering vast numbers of his works to friends, family, colleagues and sometimes others. Another colleague and friend relates that famous Brazilian bossa-nova singer-songwriter Joyce Moreno (who is named after Irish novelist James Joyce) was presented with one of Terry's 'girl with guitar' paintings and took it back to Rio de Janeiro after her concert in Liverpool a few years ago.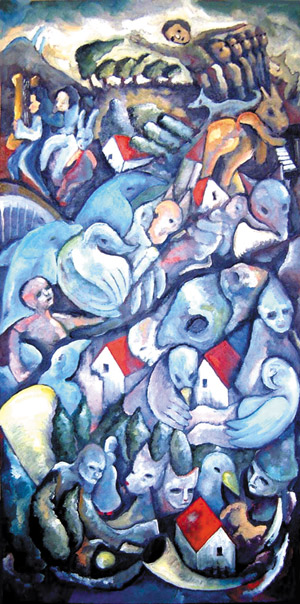 He also relates that an art collector in Seville in Spain (on the Guadalquivir River where Columbus set sail for the Americas) has three of Terry's paintings permanently on display.
His most productive period was from the late 1990s to 2000, by which time his influences included Henri Matisse, Georges Braque and Stanley Spencer.
There were distinct periods of work; for instance a trip to Greece inspired a set of paintings of pastel buildings rising up hillsides from the sea nearby.
He was fascinated by music – not only listening to it, but by the mechanics of making it. This led to a series of paintings of groups of musicians from differing genres playing instruments. These were painted in great and accurate detail, even though sometimes from imagination.
His musical tastes were eclectic but by far his favourite artist was Syd Barrett (deceased – formerly founder of Pink Floyd), especially his album 'The Madcap Laughs'.
He was also a big fan of Radiohead, and the American band Eels. But he had broad tastes and would open-mindedly listen to almost anything.
From 2004 on, his painterly style became more Expressionist, which continued throughout the rest of his career. He took to using large canvases for his figurative paintings, using a limited colour palette.
He has been described as the 'glue' which held many others together. Everyone knew who he was, and he knew most of them. He was able to mix socially in many layers of society, being well-educated but not remotely snobbish. As one of his closest friends said, 'He was the real deal'. He was a one-off who will be much missed.