My Week With Marilyn (15)
Directed by Simon Curtis

Opened 25th November 2011
Catalyst Media would like to thank Chris Peters, marketing manager of Picturehouse at the FACT Centre, for issuing twelve complimentary tickets to view My Week With Marilyn film on behalf of the Learning To Write Reviews For Nerve group.
Review by
Marketed officially as "The true story behind the secret relationship between Marilyn Monroe and Colin Clark", My Week With Marilyn is based on the book of the same title by Colin Clark, the well-connected, if lowly 3rd Assistant Director on the film production of The Prince and the Showgirl. The original film was shot in 1956, and was hoped to provide Hollywood glamour to Laurence Olivier's career and acting credibility for Monroe.
It is the story of how the world's most beautiful but vulnerable star found the only trustworthy person on set to be the the boyish 23-year-old set runner, who worked directly for Olivier. With her was new husband, famous playwright Arthur Miller, who left early into the shoot even though it was also during their honeymoon.
Her entourage also consisted of her acting coach Paula Strasberg, and her business manager Milton H. Greene, both to keep the famously, unreliable star on task, one through constant flattery, the other, through a constant drugs supply.
Then there was Olivier, whose patronising and impatient treatment of his co-star meant poor Marilyn really had no truthful person to turn to. Step in our young hero to rescue the distressed damsel. And so, (as Clark himself called it) the 'fairy story' begins. He gets to spend time with her in her house, on a trip to Windsor Castle, to his old school Eton and an impromptu swim in the rural River Thames which ended with a kiss. He even ended up sleeping in her bed with her, but an honourable gentleman to the last, he did not take advantage of his married friend.
Whether the viewer believes that the details of this story are true, the film is nonetheless amusing and it is enjoyable watching a smitten, young man drawn in by this fabulous star into improbable situations.
The leading roles are played out plausibly by Michelle Williams (Marilyn), Eddie Redmayne (Colin) and Kenneth Branagh (Olivier). Williams displays the essence of Monroe's disjuncture between being an insecure human being and the dumb blonde persona grafted on to her by whispering to Colin when a small crowd gathers "Shall I be her?" "Who?" he puzzles, "Marilyn" and she launches into the giggly, flirtatious character she is famous for at the gates of Windsor Castle.
Marilyn Monroe, the brand, is intact and she has inspired many followers from Debbie Harry to Madonna as well as countless fancy dress and drag queen portrayals. Marilyn Monroe, the enigma still remains, as does the belief in the cult of the celebrity – the difference is now it is shamelessly accepted that talent is not a pre-requisite in the pursuit of fame and fortune.
Review by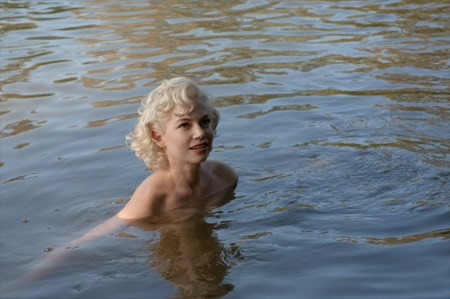 A distinguished director asked to name his top films of all time hummed and ah-ed, rubbed his chin then said, "Can't do it!" But I can name great film scenes, he said, and did. What he was gettin' at is that there are always parts of a film which are padding and filler, a time to play footsie, or nod off. My Week with Marilyn has more sleepy moments than most and is what I call a 2-Snoozer.
Young toff Colin Clark (Eddie Redmayne ) is desperate to make it into the movies on his own and, miraculously, with only the Old Boy Network to call on makes it. He lands on the set of 'The Prince and the Showgirl', and ends up as lapdog and confidant to vulnerable sex goddess, Marilyn Monroe (Michelle Williams). Arriving in England with latest hubbage, Arthur Miller, Marilyn is greeted by co-star Laurence Olivier (Kenneth Branagh), and his missus, Vivien Leigh in a clash of transatlantic theatrical and movie royalty.
Marilyn has also brought her full bag of insecurities and when Miller hotfoots it back to the States – it is their honeymoon, after all – the bag flies open. Larry gets the hump left waiting on set in full costume for hours, and soon everyone is miffed with the leading lady. Abandoned and alone she spots an unlikely friendly face in Clark, the film 'Gofer' (aka '3rd Assistant Director').
Michelle Williams is knockout as the fabled all-woman Marilyn, and the only thing which, for me, stops the film becoming the full snorefest. Recreating the week the Hollywood icon spent with the starstuck and infatuated (nowt happens) Clarke as the restrained 1950's upper crust wet lettuce is tame stuff. Anyone who has had a serious relationship with anything above a mole should give this a miss. Tick box references to Marilyn's troubled family history, and the pair's romp around the Hooray Henry English shires is pure Downton Abbey minus plot.
As for Branagh, Judy Dench, and the other warhorses of stage and screen this was just a chance to catch up, with a little on-set natter in between.
I didn't expect much, and I didn't get it. That's life.