Liverpool Biennial: The Unexpected Guest
The Cunard Building, Liverpool
15th September - 25th November 2012
Free entry
Reviewed by
The exhibition at the Cunard Building addresses the basic and crucial theme of host and guest and is particularly pertinent in this age of mass emigration/immigration. The building itself: a blend of French classicism, Florentine Renaissance, with a touch of early twentieth century America, is one of the most important exhibits. The spacious, gracious, marbled area which houses the exhibition was originally a terminal dedicated to the needs of first class passengers - the rest were dispatched on the floors beneath - so it echoes with the British class system, closely reproduced on the floating Cunard hotels, and with the confidence of the age of capitalistic commerce.
That most basic of needs, shelter, is addressed by Pamela Rosencranz whose installation Bow Human (2012) represents human figures crouched under emergency blankets, whose metallic material reflects light and distorts and depersonalises what is within. The juxtaposition of Rosencrantz's work with that of a group of artists known as Superflex makes an obvious though important comment on the anomalies which exist in a society where property is part of casino banking. Liverpool to Let (pictured above) is a collection of property signage which flags up the outrage of homelessness in the face of so much wasted, unoccupied space and also the privilege of the wealthy to own and occupy large spaces when others have so little territory.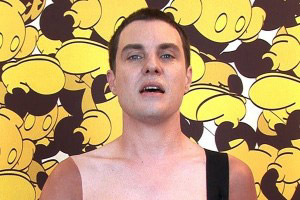 Mona Hatoum's unusual mappings of the world confront our ignorance and challenge our arrogance towards territory. Present Tense (1996) is a rectangle of soap tiles - the old-fashioned soapy smell so redolent of distant Mondays - upon which an archipelago of glass beads has been super-imposed. What I particularly like about this exhibit are the tactile and olfactory aspects of the work, together with the kinetic energy created by the unevenness of the pieces of soap. Apart from these aesthetic considerations, I suppose the political-economic message is that maps are based on commodities, something alluded to in Runo Lagomarsino's new work: An Offensive Object in the Least Offensive Way (2012). This includes a dia projection loop showing monochromatic slides of twin knives, stylistically and functionally linked, but having design and dimension differences. The notion that these were used to cut sugar cane - with the obvious references to slavery - is somewhat off-set by the formal, symmetrical presentation of the objects, divorced from their activity. The sound of the slide carousel's movement punctuates these mesmerising images, which have their own aesthetic beauty, and creates a regular cutting rhythm.
Another artefact whose appeal almost counterbalances its message is Nadia Kaabi-Linke's Parkverbot (2010). As you approach this piece in the dimly lit - almost church-like - area where it is displayed, you are drawn by the fragmented light which resembles those rows of votive candles seen in holy places. The close up realization of what it really is shocks you: a park bench stuck all over with steel spikes. A bed of nails! It certainly looks better from the position of ignorance in which I approached it, just as a new life in a new country invariably seems more inviting from the distance of Utopian aspirations. This place of little-ease also references the wooden cross and nails of the Christian faith as well as the paucity of social welcome for the homeless in our cities. However, viewed without these allusions, this object has an aesthetic attractiveness created by light reflected from the variously angled steel surfaces.
Speaking of Utopia, which has always been such a potent aspiration for those wishing to create a better society, this - or rather the failure of Utopia - is what Sylvie Blocher examines in her banner-like installations, The Series: Speeches (2012), where important political speeches and manifestos are delivered, retold. (Pictured above.) Against a background banner of stylised guns a pregnant woman, cradling her stomach, sings beautifully and poignantly. The words are sung by Veronique Nosbaum and are taken from the United Nations Convention on Refugees. The image of a pregnant woman stresses the vulnerable, dependent, dangerous status of the refugee at the same time that it offers hope for new life, for a new life. The rape victim is another image of vulnerability and this is represented by Suzanne Lacy's Storying Rape (2012) and Three Weeks in January (2012). As is often the case, the video installation required quite a bit of time and concentration. I would suggest that it would be better to revisit this.**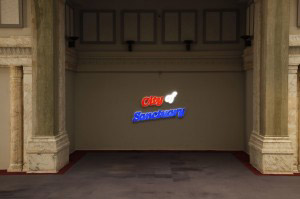 Mona Hatoum's red hearth-rug of welcome, which is placed in front of the red, white and blue neon sign: City of Sanctuary* (Andrea Bowers, 2012 – pictured right) has a middle-eastern feel to it and what seem to be areas of scorching. The artist has actually taken off the pile in such a way as to create a map. The ideas are complex. To create a discreet area of ownership and influence, the settlers do indeed interfere with the land, even going so far as to exploitatively denude it, and whether this is a positive or a negative effect depends very much on the perspective of the perceiver. My original feeling that these were burnt areas fitted in with the notion of refugees from scorched earth seeking sanctuary, seeking asylum in the great city-port of Liverpool - which is what the placing of these two works indicates. Mercifully, a more positive expectation of hospitality than that offered by the bed of nails.
Ahmet Ogut's Let it be known to all persons here gathered (2012) has a retro feel to it, harking back to the days when hospitality was a simple matter of inviting people to join in with something. A horseman, dressed as a postman becomes a sort of itinerant town crier. On the other hand, Trevor Paglen's Prototype for a Nonfunctional Satellite (Design 1, Build 1: 'The Kite') 2012 has a dadaist flavour which looks to a future of colonising the inhospitable reaches of space, aided by a technology not universally understood. The satellite has a dramatic glamour but its function, because it is allegedly functionless, is not clear, like many government projects.
Christodoulos Panayiotou's black and white photographs examine the official portrayal of a particular culture. He has collected the images from the archives of the press and government in Cyprus and what comes over is a nostalgic and rather clichéd view of Cypriot culture. Scenery, ruins, classical statues, blokes doing traditional dancing, patriarchal religious leaders, fashions from the early Sixties…that sort of thing. Seen in the context of this exhibition it does underscore that which is to change, to go. With globalisation and so many people on the move, cultures will merge and evolve, far away from the 'old country'. And I think this is evident in Ponte (2008 – 2011), an installation created by Mikhael Subotzky and Patrick Waterhouse. This vast and notorious Johannesburg building, once the focus of Utopian aspirations, is now a place of dysfunction and despair. But what comes across, as you survey the circular 12 channel digital slide show, comprising 636 images, is the fact that this city skyline could be in almost any continent. These are essentially urban shots of highly concentrated living conditions, with close-ups of walls, railings, graffiti, window frames, and glimpses of people of various ethnicities, such as one might find in any densely populated area, where the poor have been ghettoised. One of the most eloquent strands of this show is the way in which the images of different window coverings represent the multi-ethnicity of the populace.
Wherever people on the move settle, they make that part a bit like them, if only through their choice of curtains! But the most intriguing sign of immigration and integration is to be found on Nantwich Road, Crewe, where the latest takeaway offers "Thai and Slovakian" food.
A thoughtful and contemporary exhibition, well worth two visits so you can manage Althea Thauberger's Marat/Sade, Bohnice (2012) filmed in a psychiatric hospital in Prague, in which a blurring between actor and audience takes place, just as there is a blurring between host and guest taking place throughout the world.
But the Cunard Building needs to put out more chairs for its guests!
*Andrea Bowers and STAR (Student Action for Refugees) have collaborated with designer Sam Wiehl to create a visual identity for the launch of Liverpool as a sanctuary for asylum seekers and refugees.
**