Transmitting Andy Warhol

7th November 2014 - 8th February 2015
Reviewed by
Andrew Warhola was born in Pittsburgh, Pennsylvania, in 1928. As a child he contracted a severe nervous disease called Chorea, also known as St. Vitus Dance, and was confined to bed for months which made him even more of a misfit. It was then that his mother gave him his first drawing lesson which led to a passion for illustration. He also enjoyed photography and set up a darkroom in his mother's basement aged nine.
He changed his surname to Warhol and completed a fine art degree. He started work in 1949 at Glamour Magazine in New York City and won many top awards for his illustrations. He was very sucessful in his field and his work, especially shoe designs, was very unique.
The Velvet Underground and Nico

1967 Album cover design by Andy Warhol
Warhol was interested in using mass media to distribute his work as widely as possible. In the 60's this was unusual and not like today when many of us use Twitter , blogs, Facebook and more to promote ourselves. He was involved in avant -garde and commercial work, including book covers, book publishing, record covers, painting, sculptures, film, T.V shows, printmaking, silk screen and music. He also managed and produced The Velvet Underground for a while.
He set up the silver painted Factory Studio in a NYC warehouse in 1968 and filled it with artists, street people, speed freaks, superstars and socialites. The Factory was very counterculture and also quite deviant. It was not unusual to see naked people or those having sex, which Andy would enjoy filming.
The Velvet Underground hung out and rehearsed there and it was a hive of activity with work being mass produced day and night. Screen prints and screen tests of all the personalities like Edie Sedgewick, Ultra Violet Gerard Malanga and Billy Name. There were also the drag queens Candy Darling and Holly Woodlawn (Holly made famous by Lou Reed's song, Walk On The Wild Side).
Warhol was exhibiting images like multiples of Brillo Boxes, Campbell's soup cans and Marilyn Monroe screenprints. He used a lot of repetition to mimic the mass consumption world unfolding around him. Warhol was also one of the first artists to exhibit video.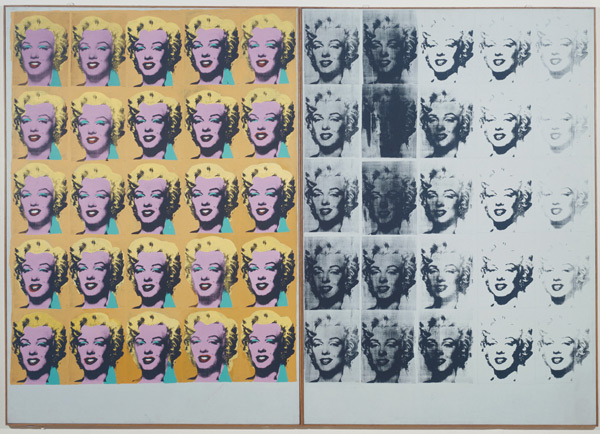 Andy Warhol,

Marilyn Diptych

1962
He set up the 'Pastic Exploding Inevitable' touring production with the Velvets. A multimedia event with music, performance art and projections. It has been interestingly recreated in the Tate with all the original projections, a disco ball and the sounds of the Velvets.
The Gallery is filled with over a hundred artworks including the Mao Tse Tungs, Marilyns, dollar sign screenprints. There are many of the record covers and a complete set of Interview magazines. TV monitors show his cable shows from the 80's and an advert for an ice cream sundae in his original pop art style. Many of his book covers are in cabinets and also many magazines show examples of his work.
I would have loved the other half of the gallery to be filled with his multiple image screen prints rather than a more contemporary artists work (Gretchen Bender..I had never heard of her!).
I would also have liked to see some of his diamond dust artworks and the whole set of screen tests..those silent black and white short films of people just looking into the camera. A few more of his films of plays would have fitted in there nicely too.
Excellent show though. Don't miss it.
Andy Warhol, [no title] 1971
Comment left by Colin Serjent on 13th November, 2014 at 17:54
Best part of the exhibition for me was the amazing videotape of one of Warhol's followers, Edie Sedgewick, talking to her alter ego - like two split personalities on the same screen. Sadly Edie died of a drug overdose aged only 28.