The Kite Runner
Adapted by Matthew Spangler, directed by Giles Croft
Based on the novel by Khaled Hosseini
Presented by Liverpool Everyman and Playhouse and Nottingham Theatre Company

Till 6th July 2013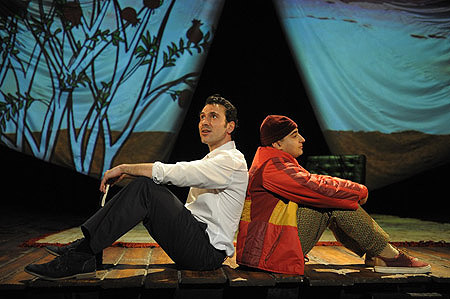 Reviewed by
Photograph by Robert Day
This production of The Kite Runner is adapted from the best selling novel of Khaled Hosseini - which was also made into a feature film - tells the story of adolescence, friendship, bitter recrimination and exile amid cataclysmic events taking place in war-torn Afghanistan, during a period which saw the abolition of the monarchy in the country, the invasion by the Soviet Union and the inexorable rise of the Taliban.
Two close pals from contrasting backgrounds, Amir (Ben Turner) and Hassan (Farshid Rokey) - they play the characters in their youth and as adults- see their lives and friendship torn apart after an act of betrayal during a kite-flying competition. Amir, who is almost ever- present on stage during a two hour plus production, is the narrator of the epic story.
In essence the rest of the play, following this cowardly behaviour by Amir, traces his attempts to find redemption for his failure to help Hassan when confronted and sodomised by evil doers.
The play covers a period of over thirty years, based in Afghanistan and the USA, but it fails to paint the broader political picture, as described vividly in the book. The portrayal of the 'bad guys', the Taliban in Afghanistan, wearing designer shades, is comic book stuff, and the violence, which is the crucial aspect of the novel, is barely referred to.
The most memorable scenes are those portraying the kites flying . Beautiful images are projected onto billowing sheets, amid the wondrousl sound of the wind and the sublime music playing of tabla player Hanif Khan, live on stage.