The Cornershop
Installation by the artist Lucy Sparrow
19 Wellington Row, London E2
Reviewed by
Photos by
For the last three weeks a little corner of Bethnal Green has been buzzing with excitement at a new addition to the area. An old dry cleaners has been turned into a store completely filled with objects made from felt. Lucy Sparrow is the artist responsible for this fluffy shop and what a shop it is after taking her seven months working twelve hours a day to create it.
There are about four thousand items in the shop all crafted from felt and it actually looks like a real store! There are spaghetti packets with yellow wool inside to look like you could just go ahead and boil it, tins of ravioli, baked beans and vegetable soup. Sweets in jars high up on a shelf are full of red laces,cola bottles and felt pink shrimps.There's a crisp section near the felt till, chewing gum in a chewing gum stand and chocolate bars laid out like in any store. Behind the counter are packs of cigarettes and rolling tobacco in felt pouches. There's even a felt price labelling machine.
In the chiller are pretend sandwiches, tins of fizzy 'soft' drinks and litres of milk. Nearby is a newspaper and magazine stand with lurid headlines such as 'Ministers knew of horsemeat scandal for donkey's years' and 'I've eaten my girlfriend'. For those inclined a top shelf has some 'soft porn' with copies of Dazzler and more!!
On a shelving display in the middle of the shop are large packs of squidgy toilet paper (only the softest!), tampax and sanitary towels, pregnancy tests, paracetomol, durex contraceptives, lemsip, bleach,soaps, mouthwash and nappies. There's even a massive sack of cat litter next to a giant pack of washing powder! For those who need a drink after all the excitement you have a choice including vodka and whisky and cans of lager. Obviously no cornershop would be complete without it's fruit and veg and there's certainly a healthy choice including cucumbers, carrots, tomatoes and bananas. Lucy's love of bananas is so great she has a tattoo of one on her wrist along with a pair of scissors on the other.
By luck Lucy appeared on the shop floor to do a little tidying up and I managed to ask her a few questions. I asked if she did a loyalty card and she assured me she could make me one out of felt. Do you stay open late like a regular cornershop? I asked. Lucy was happy to inform me that her 10am to 7pm opening hours were longer than her local cornershop. How about Orange mobile phone top ups then, can I get one here I said. It depends if people have felt phones she wittily replied. My last question was on the availability of Oyster card travel top ups. Not only does she sell giant oyster cards ( so big you can put your own card in them!) but she has created her own orange and red Lobster card. Smart woman!
| | |
| --- | --- |
| | |
A woman appeared outside beautifully dressed up in those checkered huge plastic shopping bags. They were artfully folded and she looked a dream. She was part of Lucy's regular pop up displays. A woman came in with some others for one of Lucy's popular thrice weekly workshops. I invited myself along and found myself in a nearby park sitting on a blanket on the floor in lovely sunshine with the 'Lambeth Social group'. Part of Lucy Sparrow's work is to engage the local community and particularly individuals with autism and those socially excluded. Today we were making a packet of 'ready salted crisps'. Items made in other workshops were soup cans, pick,n,mix sweets and drinks cans.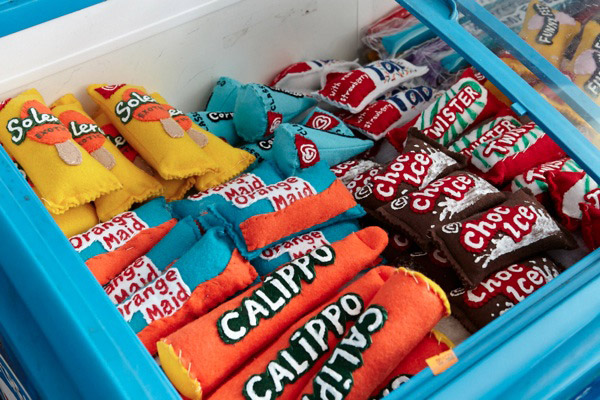 As we sat and sewed Lucy began to tell us a little more about her work. She had known from the age of four years old that she wanted to be an artist. The inspiration for her cornershop came from working in one as her first job aged fourteen. She liked the idea of cornershops as they were about a community hub. Her shop was packed out so the hub idea was definitely working. Everything in the store is for sale and people were queueing up whilst I was there to order and pay for goods. 'The Cornershop' will be here for another week and then it's off to a Brighton gallery for it's final showing then all the goods purchased will be sent out. This store took seven months to make and Lucy's next project will take even longer. For ten months Lucy will recreate American goods and then she is off to New York and will be setting up a cornershop there. So I sewed my crisp packet , 'floofed' the stuffing in, stitched a label and a few crisps on the front and there I had it...my very own felt crisp bag. I walked with the group towards the cornershop and said my goodbyes as I trod softly homeward.
Website:
Photos by: