Stephen G Bird
, Argyle Street, Birkenhead
Until 27th November 2010
Reviewed by
In case anyone hasn't visited yet, there is a wonderful temporary venue which forms part of the Independents Biennial. Set in a fabulous Georgian House near the far corner (from Hamilton Square station) of the beautiful architecture of Birkenhead's Hamilton Square, it has housed three exhibitions by leading Wirral artists and their guests. The last of these is sited there now and runs until the festival's close on 27th November.
Among the work featured is that of Stephen Guyon Bird. His incisively humorous works (some laugh-out-loud funny) reflect stories from his life as well as his extensive and varied studies in styles of painting and drawing.
Illustrative in style while classically painterly, the paintings demonstrate an almost disturbing eye for detail.
While living opposite the British Museum Stephen spent many hours and days drawing classical and oriental sculptures, and in the drawing and print room making close studies of Renaissance master prints and drawings.
These studies into the language of drawing have formed the bedrock of his narrative pictures, developed over the last twenty-five years: Bath Painter, for instance, features a cat seated on the window ledge which is clearly modelled on a statue of a Bast cat, as well as other historically accurate vessels and accessories casually scattered about.
After an art foundation at Chelsea School of Art, and first class class Fine Art degree at Goldsmiths, he had a sense he still didn't know how to draw, so embarked on another three years of study of drawing there, under Len McComb.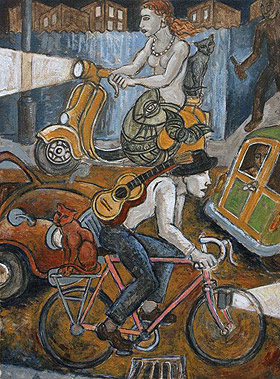 Stephen works in cycles of imagery related to literary, biblical and mythological themes. This method began during his art education which he says "felt like a golden age of in terms of the contact with artists of high calibre."
One such cycle is based on Dante's Divine Comedy, where the settings for the pictures often feature South East London in the 1970s. In Vespa, a mermaid from an ancient church in Cornwall scoots on her Lambretta along a street in 1970s Rotherhithe, while a singer passes sheeted walls of silvery corrugated iron on his pink bicycle.
The mermaid in some paintings is closer to the Madonna of the late Gothic and early Italian Renaissance periods.
The artist explains: "All drawing includes an element of memory, even drawing directly from life. There is a period of time between the moment of looking and the mark-making. When one draws from memory of an event thirty-five years ago it is simply that the period of time is extended, allowing greater play of imagination and invention."
The works are created in his cottage studio in North Yorkshire, where he has lived for the last two decades. The landscapes of the moors combine with frequent visits to the Hebrides and the rugged coastline of the Hartland peninsula in North Devon and annual visits to Florence (as head of art and art history at Ampleforth College) as influences. He is just beginning to exhibit his substantial body of works again after a break of twenty-five years.
The exhibition also features many other artists and includes the colourful and imaginative installations of Julie Dodd; handmade scarves and stoles in luxurious velvets and silks by Helen Chatterton; the almost psychedelic, brightly translucent paintings of Christine O'Reilly Wilson, and the work of five other artists.