Soft Folds, Hard Edges

41-51 Greenland Street, L1
Till August 22nd 2010
Reviewed by
Photographs by Goldsnapper
These highly unusual pieces give the impression of a fabric base, yet on close inspection are constructed from a wide and sometimes seemingly incompatible range of materials, constructed of stuffing, hand stitching and canvas painted using household paints, oils and acrylics.
The painted canvas itself asks the viewer whether this is fine art or pop art, and indeed painting or sculpture.
The title of the exhibition arises from the contrast between the initial image projected by the work, and the actuality of its construction. Geoff describes himself as 'part sculptor, part painter, part fashion-designer'.
Geoff graduated from the University of Central Lancashire in 2000 and has worked as an artist since. In 2001, he had his first solo show in 'From Space' Gallery, Manchester. Group shows and a solo show in Serbia were followed by a collaboration with fashion designer Aida in the Expo XXI in Belgrade, Serbia.
Describing his method as 'creating fashion landscapes', his inspirations are fashion designers such as Christopher Kane, Gareth Pugh, John Galliano and Vivienne Westwood, as well as artists such as Ed Kienholz, Nancy Reddin, Francis Bacon, Sigmar Polke and Thomas Demand.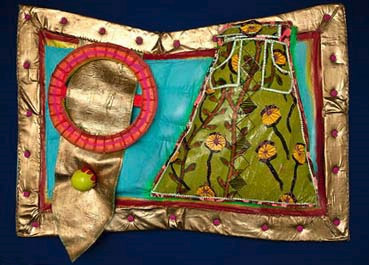 Geoff has been working on this collection of paintings for the last three years, and wanted to exhibit them in his home town of Liverpool, showing the development of his ideas over a period of time.
His three favourite pieces at the moment are: 'Morecambe Bay', 'Some 'Hope, Some Glory' and his latest piece, 'Give 'Em Enough Rope'. He sees his work as observations of the everyday; for instance, Morecambe Bay arose from a conversation he had with an elderly lady on a coach, about Morecambe's heyday.
Geoff: "I then thought about Morecambe as a bay and how it would have appeared at different times of the day. I also thought about the architecture as well as clothing which would have been worn around this time."
His work is created through a series of destructive acts, e.g. cutting, pouring and stitching paintings. 'Time Out' in Manchester has called his work 'Post-Punk Pop'.