The Reverend Billy and the Stop Shopping Choir
The Golden Toad Tour 22nd July 2013 The Casa, Hope Street, Liverpool
Reviewed by
Photographs by Mina Bihi and
Stark raving mad?...You may be forgiven for thinking so, I say 'may' be forgiven by the Reverend Billy and his Stop Shopping Choir, but this New York based theatrical outfit are as sane as any a person you will find and 'Mother Earth' are they needed!
The Casa Bar welcomed the group of activists to perform their theatrical mix of gospel-based singing and mock preaching as part of their tour of the UK, and although billed as a free event, as the room filled up; it seemed evident that this was going to be a memorable evening.
As they freely declare 'anyone who has ever attended a Church function knows how essential the Stop Shopping Gospel Choir is to this movement'.
The all-ages choir, at times 35 strong represents a diverse array of economic, ethnic, religious, and cultural backgrounds. They have a choir member from every continent except Antarctica, which they're working on. "We are moms and dads, activists, cyclists, worshippers, pagans, bakers, park-lovers, tech-geeks, tinkerers, campers, artists, teachers, truck drivers, gardeners, scholars, actors, nerds, athletes, executives, hairdressers, designers, angels, devils, and more".
Entering the small theatre space with their trademark 'Golden Toad' headwear, the performers moved gracefully yet slightly intrusively amoungst the crowd signalling that the show had begun and highlighting one of the many significant environmental reasons as to why they were performing.
Billy's entire heart-punching choir sang their souls out and performances from Lady Dragonfly and Laura Newman and the man himself were particularly memorable and lyrically laden with words that made us laugh and words that made us sigh expired from their lips as they gave an almost faultless and at times vocally impressive performance.
The night's deliverance can be described as being driven by an insatiable human desire to challenge the global destruction of our planet and invasion of indiginous homelands by the greed and tyranny of corporate and investment banking monsters. This was offered with real passion, the realisation of necessity and, with an ironically controversial in your face wit. His choir as so-named urges others to stop shopping for unnecessary goods, as it is unquestionable that consumer-able goods and consumerism is a major factor in the damage being inflicted on our planet.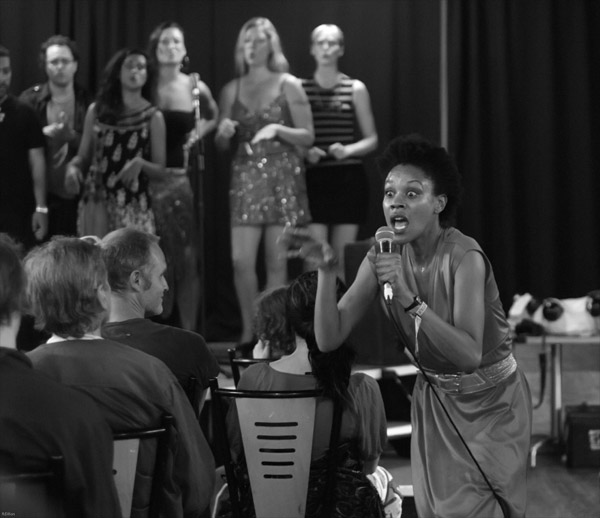 The Reverend Billy began a solo mission 17 years ago, and over the years he has welcomed many a member and fellow activist into his theatre of song and global warning. From the symbolic exercising of credit cards to standing in solidarity with the Occupy Wall Street Movement, Billy's radical sermons more than morally obliterate any other seemingly comparable religious preacher, delivering real truth and real love whilst advocating direct and honest action.
Under the direction of Savitri D, the Reverend and Choir have toured in Europe, Africa, and South America and throughout North America. William Talen (The Reverend Billy) has won the OBIE Award, The Dramalogue Award; The Historic Districts Council's Preservation Award (for leading demonstrations to save Manhattan's Poe House) and has been jailed more than 50 times to date.
Once in Liverpool the show wasn't going to end at the Casa that night, it merely took a breather and re-grouped at HSBC's Lord Street branch in the city centre the next day. Joined by a dozen local activists they took their message firstly to the staff and customers of the banking giant, then to the streets outside.
Yet again symbology was the key to their performance; as we literally witnessed the dramatic re-birth of the now 25 years extinct Golden Toad and the ensuing possession of the Reverend by the 'devil' of HSBC; all whilst passersby and customers watched in wonder and amusement and the bank's somewhat flustered staff flitted around attempting to stop any filming of the unfolding shenanigans.
All praise be to this collective of creative, strong willed and minded beautiful individuals who make up this bank-bothering bunch, may they keep spreading the word, and the light. We look forward to the next time you visit our shores, you know where we are!!
See a report with pictures of the Reverend Billy's Liverpool Flash Mob on 24 July 2013 here:
Listen to the Reverend Billy and the Stop Shopping Choir sing 'Public Space' from their cd Earthalujah here: