'On' by Bulbs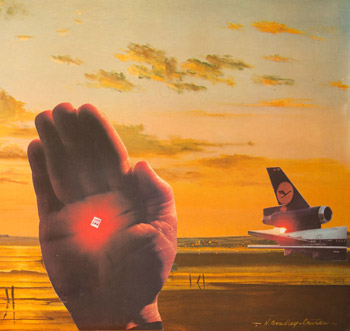 Album review by
IT'S ON!
OMG, as the kids might say. I've just listened to 'On' by Bulbs, and the sound you hear is my expanded brain laughing at the stars. This merry band of exceptional players have only gone and made one of the albums of the year. This is a deeply satisfying, mind-bending kaleidoscope of genres and melodies, beats and samples which is almost beyond peer. It's experimental in the best way, and completely pulls it off.
On his home page, multi-talented head honcho Neil Campbell describes it like this:
"Over a year in the making, Bulbs new album On is a 12 track tour de force of cyclical time signatures, electronic textures, dark conceptual speech samples and prog melodic-ism."
More than fair description and appreciation. Shows the man's class, that he gets in his top review early by writing it himself. And the incredible thing is: every word is true….
This is the sound of 4 maestros at work, and loving it. Blending seamlessly with Neil is Joey Zeb, legendary drummer and percussion king from these yards; Marty Snape, on engineering/electronics, is a funky visionary with a string of incredible bands to his name (Zeb, Snappertronics, The Hat Band, Babadub and now Bulbs); and Andy Maslivec, an absolute genius on bass and Executive Production.
I saw them play the Capstone last year, where they supported the brilliant Public Service Broadcasting (whose own recently released debut 'Inform, Educate, Entertain' is another contender for album of the year), and they were amazing live. Their launch gig at the Capstone later this month, with specially created visuals by the incredible Sonny Phillips, is shaping up to be a true audio-visual one-off. But I'm getting ahead of myself. Back to 'On'….
Opening track Lament creates a wonderful soundscape of delicate melody and swirling ambience, with some spacey FX shooting off. It's the perfect start to the Bulbs' journey, and an enticing invitation to the experience. Stall duly set out, we dive headlong into the epic Frankincensed. This is seriously funky, throbbing bass and driving drums, with the fragile guitar gently guiding the tune. Then a sampled voice talks about developing robotic intelligence, and how in 50 years time, there will be machines more intelligent than us. Our choice will be to be upgraded or be like a chimpanzee. Something to look forward to there, eh?
Majestic soars like the title says it should, and couples the mellow tone of Neil's classical acoustic guitar with fuzzy electric and the a-rhythmic patterns of prog. Balls-out rock meets chill-out reflection.
Injusa begins with lovely Spanish guitar, over some bubbling, babbling speech sample, before opening out into a big sound. It's like walking through a small back yard, through a gate, and out into a huge vista. Marty's lovely FX again providing added electronic textures and depth.
Illuminate is the longest song on the album, and contains Bulbs' central message, which is, basically: WAKE UP! Switch on the little light above your head. The speech sample says that we've all been far too laid back about what is going on in the world, replacing enlightenment with entertainment.
We're halfway through before we hit USA. Like the country itself, it makes you feel disorientated, with its off-kilter melody and reversed sounds.
Then straight into Lantra, which is really beautiful, with Neil's classical guitar playing a pure joy to listen to. The soundscape here is breathtaking, like the soundtrack to a truly great movie. The ambience of FX, merging with the wash of Joey's cymbals makes for a gorgeous sound.
They Control the Weather sounds amazing on headphones (in fact, all the songs reveal deeper textures this way), its layered, lush arrangements bouncing from ear to ear and going really deep. This tune goes all conspiratorial on our collective ass. Its sampled premise is that totalitarianism won't need to be forced on the people – we'll end up demanding it. The social manipulation of society over millennia through the generation of fear and division has detached us from our sense of power and reality. Religion, patriotism, race, wealth, class, and every other form of arbitrary separatist identification has created a controlled population, infinitely malleable. Divide and conquer is the motto. As long as we see ourselves as separate, we render ourselves enslaved. If we realised the truth of our relationship with nature and each other, the charade of all powerful Oz will fall like a house of cards. Sounds 100% right to me. Once again: wake UP, people!!
Switch takes it all to a higher level of weirdness, with a sound like a frantic signal trying to get through. I think the sample says "They are 50-100 years ahead of what you can possibly imagine." What that refers to I can only guess at, which only serves to highlight how intriguing and mysterious this album is. Again, there's a definitive Bulbs sound emerging, with deep and haunting fretwork from Neil and Andy, with a driving urgency to the whole tune. Like it's a matter of life and death that you "Switch!" I don't think they're referring to your electricity supplier….
Future Cities offers a riff that wouldn't be out of place at Download, with furious drumming to match. I'd put Joey up against the best drummers in the world, and put money on him coming out with his head held high.
A Very Good Friday goes back down a gear in mood and pace. It's as if the album takes a breath. As a listener, this is welcome as there's been a hell of a lot to take in, and this tune helps you process it. The lovely electronica bubbles beautifully underneath, and the rolling bass guides us to noddingly to the last track…
3572 Off ends the journey on a joyful note, as if we've come through the fog of illusion and the sum of all our fears, and have reached the promised land of enlightenment and met potential. Neil once again plays guitar like he's got 12 fingers on each hand, and the melody is simply fantastic. And that's it!
'On' packs in more ideas and expert musicianship in under 1 hour than a lot of bands do in their whole careers. Neil, Andy, Joey and Marty are individually great, but together, they're sublime. Lads, take a bow. Bulbs take you to the outer limits of both inner and outer space, and I cannot recommend this album enough.
Literally, awesome. 10/10
Album Launch at The Capstone Theatre
Bulbs launches its eagerly awaited debut album at The Capstone Theatre (17 Shaw Street, Liverpool L6 1HP) with an hour long performance (+ support) which will feature the projection of an entrancing new film specially created by artist Sonny Phillips to accompany the album. The album will be performed in its entirety at the launch event. The evening starts at 7.30pm and admission is £5 (door). 'Bulbs – On' CD will be available for sale at the launch. Further details at: .