You Are Not Alone
An exhibition by the community for the community

Reviewed by 6/4/2012
Many months ago in Liverpool you may have seen the Occupy movement take their first less than hesitant steps into the Occupy scene with their occupation of the Wellington Monument. Follow their successful but ultimately weather fraught battle with members of the English Defence League, bitter temperatures and the odd (very rare, in fact) disagreeing member of the public they moved around a few venues before seemingly scattering. Their presence, albeit lower key than previously, is confirmed with this Occupy organised art exhibition at the tucked away but well worth the hunt Scythe and Teacup gamers space and cafe just off London Road.
For a first attempt at curating a show, with apparently two weeks planning and notice, it looked remarkably good, showing that it's not always time but enthusiasm and good organisation that can make or break an exhibition. With one side of the venue filled with its core audience of gamers and the odd Occupier enjoying (and making) some music on various guitars and a double bass the rest of the space had the exhibition I had been invited down to see. Entitled You Are Not Alone, it was literally and creatively the case that I was not alone.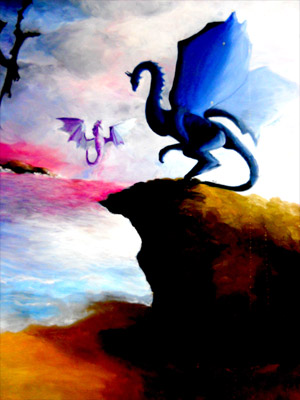 Clearly word had got around the city of the show and there was never less than a dozen people taking in the show of multi-disciplined art which is more than most commercial galleries can boast in a day of opening sometimes. On that basis it was a success, but what about the art itself? The art itself featured a selection of photographic, oil painting, prints, sketches and installation work that were all locally sourced and "by the community for the community" in the spirit of the shows roots.
There was art from regulars on the Liverpool scene such as Jazamin Sinclair, with some excellent miniature paintings and two sketches that impressed as well. Karl Raven's images of ordinary workers in Rajasthan were also fascinating, providing a window into the life of another culture and giving us all food for thought on how we view our own lives. Similarly Tracey Dunn's Morocco installation of four television each showing an excerpt of video from her trip to various areas of the country was a fascinating watch, as people went about their daily business at market or walking the streets from their own A to B. Also impressive was the work of Zoe Christoforou, whose surrealistic yet almost innocently crafted work was something to enjoy as you pored through her sketch books.
There was of course much more to see and I assure you that it was worth seeing. But rather than talk too much about it I'd simply suggest you keep your ear to the digital ground to hear when future shows are taking place. As one of the organisers put it, there may be arts cuts but the creativity doesn't stop and this show is proof of that without doubt.
Long may it continue!