Like you've never been away
Photographs by Paul Trevor

13th May – 25th September 2011
Free Admission
Reviewed by
Paul Trevor's Like you've never been away is much more than simply a welcome addition to Liverpool's first international photography festival, . Instead, it is a graphic black-and-white celebration of an era when parents felt at ease in letting their children roam free through uncongested streets in search of fun and adventure, usually under the watchful eyes of many neighbours sat around their front doorsteps.
After being inspired by the demographic changes he had witnessed around the Brick Lane area of east London, where he had grown up, Trevor joined the 'Survival Programmes' project in 1975 that sought to document inner-city deprivation across the UK. In the 1970s a derelict post-war Liverpool was undergoing a massive transformation whereupon much traditional housing was being demolished to make way for the socially experimental high-rise blocks of flats. Trevor decided to conduct a comparative photographic analysis of one such area (Crosby Heights) with another (Toxteth [then known as Lodge Lane]) that had not been forced to step-aside for 'progress' and remained composed of long terraced streets filled with two-up two-down houses.
The underlying point of Trevor's exhibition appears to be that children are somewhat immune from socially constructed definitions of poverty and deprivation. For children, a rubbish tip can transmogrify into a magical play-area, discarded rope can become a swing and a disused garage or flat is the perfect place for a den. It is only when they grow up that they are forced to confront life's harsh realities. Indeed, one of the more poignant moments in the exhibition occurs during a video recording of Trevor, 35 years later, holding a community meeting to attempt to locate the current whereabouts of the children he had photographed. One individual points out the boy above and informs Trevor that it is his brother and that he had died of an overdose.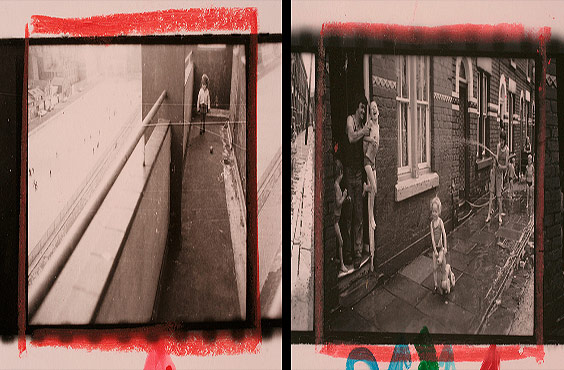 Another thought that one cannot help leaving the exhibition with is the manner in which the 'social experiment' of high-rises created a very different type of environment for children to grow up in. Although both areas were host to high levels of poverty and unemployment, there is a stark difference between the two in terms of community. In Toxteth, we see in the background - or the forefront - of the pictures taken of the children, a host of other characters engaged in a wide range of activities. However, in the photos from the high-rises children are much more likely to be playing by themselves, or, if in a group, there are no adults to be seen in the background.
It is quite bewildering and depressing to see how life was so very different only 36 years ago. However, by highlighting how recent this crucial moment in our transition towards asocial recluses happy to let children spend their formative years watching TV or playing computer games by themselves occurred, Trevor's exhibition encourages us to perceive the transition as far from irreversible. As such, for anyone seeking a little bit of inspiration in these times of continuous reporting of crime and drugs, Like you've never been away is a must.