Liverpool Alphabet
Twenty-Six Prints by Trevor Skempton
, 23 Mathew St, Liverpool
Thurs 5th May - Sat 29th May 2011
Reviewed by
Architect, artist and printmaker Trevor Skempton, originally from Birkenhead, shows these locally-themed, limited edition prints in his third exhibition at the View Two Gallery. Covering a half-century of incredible change and development in Liverpool's landscape and skyline, this witty, insightful and sometimes poignant visual review provides eye-witness and/ or photographic evidence of the extent of this urban re-invention.
V is for the View Two Gallery but also for the previous visitors who may have seen the inventive series of posters by the artist designed for Liverpool's crowning year, 2008. Trevor says: "The 'Capital of Culture Collection' was a respectful but unauthorised response to the perceived failure of the 2008 organisers to give the festival a multi-lingual character. Starting with Welsh and Russian, the collection expanded to include two-dozen variants of the logo, including two English anagrams for 2009." The 'V' of the current collection pays tribute to this humorous and beautifully executed graphic set.
For those interested in a historical perspective, there is much to ponder. 'B is for Brownlow Hill' is a photograph of a partially constructed Metropolitan Cathedral (below), its famous flying buttresses still in construction, with one solitary house, under process of demolition, in the foreground. What is even more surprising to see is the bare landscape around it; the built-up Hope St we know now, where it is hard to see the magnificent buildings from most positions, did not exist, as recently as 1964.
'U is for upside-down map' is an original print (above) which gives an insight into the artist's incisive viewpoint. Observing that the South-East corner is often the one which countries select as their base of power, Trevor has literally turned this on its head to create an entirely different situation! Both amusing and serious, this is really worth studying in some depth.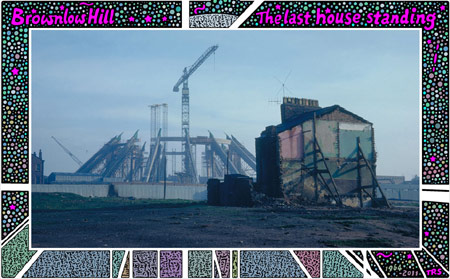 This is an unusual, quite political, beautifully-produced exhibition which is well worth visiting despite the plethora of other art events launched at the Light Night event. Considering the quality and unusual nature of this work, the prints are also very all reasonably priced.
'Liverpool Alphabet' opens in the View Two Gallery in Mathew Street on Thursday 5th May 2011, 6.00 – 9.00 pm and runs until the end of the month.
Trevor Skempton will introduce a short discussion of some of these themes, followed by music from C-City, on the evening of the 12th May 2011, 8.00pm.

23 Mathew St Liverpool L2 6RE Tel: 0151 236 9444
The gallery is open on Thursday, Friday and Saturday afternoons, and at other times by special arrangement.