Liars/Mugstar/We Came Out Like Tigers
Static Gallery, Roscoe Lane
13th November 2010
Reviewed by
Photographs by Keith Ainsworth
'Intense' is an overused word when pressed into service to describe musical performances. 'Taut' or 'edgy' would usually suffice. Not when describing the current group however. We Came Out Like Tigers (pictured right) - and in particular their frontman Simon Barr - totally justify the term. Opening their set with a spoken word piece, WCOLT then crash into a squally post rock track, alternating tempos between blisteringly fast and grindingly slow.
Leaping off the low stage halfway before the song has even finished, vocalist Barr remains eyeball-to-eyeball with the audience for the remainder of the set. Pacing the length of the stage front, emoting to the front rows of the crowd or staring down the lenses of the photographers present, he exudes an eccentric, faintly menacing air.
Coaxing delicate melodies from a violin on several tracks, interspersed with more spoken-word sections and larynx-shredding yells, the group are closer to progressive metal than all-out punk. Recalling recently reformed early 2000s mavericks Godspeed! You Black Emperor, WCOLT supplement G!YBE's stately tempos with bursts of light-speed punk.
Liverpudlian instrumentalists Mugstar open their account with a loud, lengthy track recalling seventies astral travellers Hawkwind. Sharing a similar interest in electronics with Lemmy's old band, their tracks begin by establishing a rolling mid tempo motif which gradually builds over time. Largely dispensing with melodic focal points, the quartet concentrates on building up the tracks' rhythm and texture.
Their second track, a scuzzy Mary Chain style chug vaguely reminiscent of garage rock touch stone I Wanna Be Your Dog, is stretched out to XL proportions, with many of the song's timings almost reaching into double figures. The lack of vocals over time does begin to grate slightly as the tracks uncoiling rhythms take a long time before reaching a melodic plateau.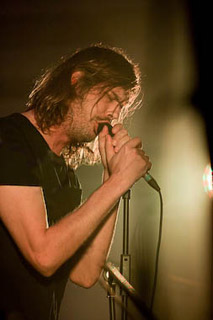 Currently residing in LA, art-punks Liars (pictured right) - highly feted at the beginning of the last decade with the splendidly titled They Threw Us All in a Trench and Stuck a Monument on Top LP - have largely remained a cult proposition. Ostensibly a trio supplemented by a multi-instrumentalist live, the group operates in similar territory to The Rapture's bone dry indie-funk. Evoking Talking Heads' similar voyages into Afrobeat and Fela Kuti rhythms, Liars lack the 'Heads melodic ballast and wiry energy. Angus Andrews, the group's frontman and lynchpin, face obscured by a curtain of hair, unlike Talking Heads' charismatic leader David Byrne maintains an aloof stance for the duration of the set.
Formerly part of the New York scene that begot The Rapture and The Yeah Yeah Yeahs, Andrews betrays his time spent in the city a decade ago with a Ramones-like guitar stomp played second. Aside from this and a brief diversion into early New Wave era Elvis Costello, the trio's melodicism isn't their strong suit.
Akin at certain points to Brit electro veterans Depeche Mode, but lacking their labelmates understated melodies, much of the texture and atmosphere of the tracks is created using electronics. The initial notices the band received during the post-punk revival still rings true, as Andrews' Ian Curtis-like vocals testify. Utilizing effects boxes to create vocal repeats, the repeated knob-twiddling sacrifices audience interaction as various members are absorbed in generating the various sounds.
Aside from the clanging guitar and Joy Division bassline of Too Much Too Much, coming across like a seasick Kevin Shields solo track, the set makes few concessions to non-converts. Liars certainly have the ability and the influences down pat to craft their own take on arty punk-funk, but a few more actual songs certainly wouldn't have gone amiss.