Landscapes of Conflict
How do Photographers respond to Modern Warfare?
1 Day Seminar from LOOK11 Photography Festival
CUC Centre Liverpool May 25th 2011
Photo by Tim Hetherington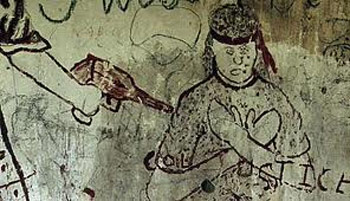 Reviewed by
This seminar was held on the day that Obama and Cameron celebrated their special relationship in London as 'World Leaders for Democracy' with a barbecue for invited armed forces families. When I saw their grinning faces as they served up hunks of grilled meat I couldn't help thinking about the charred bodies I have had the misfortune to view in recent war photos.
'Landscapes of Conflict' was an interesting event as it showed that many war photographers are now producing bodies of work which do not show the dead bodies. The image makers are increasingly showing only the traces of war rather than the effects on the human body.
Paul Lowe host for the day is based at the London College of Communication and has produced a substantial body of work from the war zones of Rwanda,Chechnya and Bosnia. Look online if you want to see some of the horrendous scenes he has photographed. He has co-curated the 'Collateral Damage' exhibition on the 5th floor at the CUC for LOOK11 with Harry Hardie. He introduced us to the work of Mishka Henner who has used fifty one Google Earth 'crowd sourced' images to frame aerial shots of various worldwide Military Bases. Interestingly in one of Mishka's other projects called 'Dutch Military Bases' Holland have censored their Google Earth images with camouflage style imagery. Those photos which we viewed later in the screening room were really powerful pieces of Contemporary Art in themselves.
Tim Hetherington award winning war photographer and film maker born in Merseyside began his career working for the Big Issue magazine. His directorial debut film about a platoon of soldiers in Afghanistan, was awarded the Grand Jury Prize at the 2010 Sundance Film Festival. Also check out his short film 'sleeping soldiers' online at Vimeo. He was commissioned last year to show his photos of soldiers' grafitti for this exhibition. Sadly he was killed on 20th April whilst covering conflict in Libya.
One wall had huge black and white posters by Ashley Gilbertson of a child's bedroom, a child who became a man and never came home. The photographer has also made a series of images of dead soldiers bedrooms in the US. which are forever left like shrines by their devastated families. Another wall was covered by scanned images and letters which were sent to an inmate at Guantanamo Bay. Apparently inmates are not allowed original mail which has been sent to them.
We visited Milk and Sugar to view Donovan Wylies 'British Watchtowers' and John Davies images of Liverpool war 'landmarks' including his first war image a Cenotaph style November 10th Remembrance Sunday ceremony outside St. Georges Hall 2002 part of his show Signs of War which was taken a year before the British invasion of Iraq. John Davies talked to us about his own feelings of war mentioning how we have memorials in every town commemorating the atrocities and innocently sing war songs as school children. My parents were evacuated as children from London when war broke out and my mum had her hair chopped off and her sweets stolen by a cruel guardian. She also had her own mickey mouse gas mask. My father was conscripted into the Parachute Regiment and was positioned in Egypt guarding the Suez Canal when he reached manhood. I grew up in a street nicknamed 'Widows Row' as most of the houses were lived in by women who lost their soldier husbands in the war. From a very young age I was aware that war caused untold misery, fatherless children, loss and loneliness.
Back in the screening room we were shown various photographers work on the theme of war. Dr. Jennifer Pollard talked us through her work about the iconic imagery around the destruction of the twin towers in New York and showed us an image from the ceremony held when the last iron beam was removed from Ground Zero. Mishka Henner also showed us more of his recent Google Earth projects including one on Libyan Oil fields. There are certainly some fearless people out there sacrificing their safety and sanity to show the world the realities of life. I once met some old soldiers who told me they had liberated Auschwitz, how different to current wars which mainly seem to be about pillaging oil fields.
I left the building feeling so glad I did not live in a war zone. The sun was shining hard and the streets felt hopeful. I let my head decompress from the horrors it had felt for one day when suddenly I looked up and saw a length of Mill street, Dingle covered in St. Georges flags. It was like being back in Northern Ireland where each village I passed through near Belfast asserted its identity through flags and painted kerb stones. The traces of war were closer than I thought.