The Lady In The Van
Written by Alan Bennett
Presented by Hull Truck in association with Richard Jordan Productions Ltd
10th - 14th May 2011
Reviewed by
Film director Alfred Hitchcock was renowned for making a cameo appearance in every movie he made; most playwrights don't appear in their work, however The Lady In The Van is based on Alan Bennett's real-life experience, and in earlier productions he played himself. Alas he was unavailable this time so what could be better than Alan Bennett, but two "Alan Bennetts"? It was a very good device to express the narrative as well as the action and his thoughts which often conflicted with what he actually said.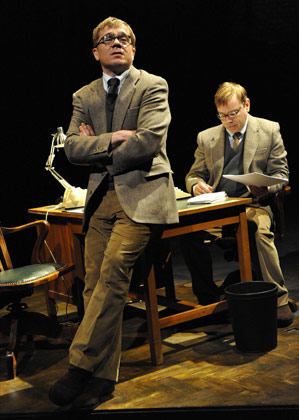 "Miss Shepherd" as she was known, was played superbly by Nichola McAuliffe, and she perfectly captured the complex personality of a proud, intelligent, pious, and fiercely independent woman who lived in reduced circumstances for approximately twenty years. The rest of the cast played a multiple of roles each and were all very credible.
Questions that arose for me about the real-life lady in the van were: how did Camden Social Services allow this to happen to the point where she became so entrenched in her detrimental and deteriorating lifestyle, and why didn't Alan Bennett insist on her using his toilet and bath for reasons of hygiene, let alone the "odiferous concerto"?
The sparkling dialogue was a fascinating insight into the mind of Alan Bennett himself, as he interracted with her on almost a daily basis; two incongruous people who ended up in a situation which despite not being mutually beneficial, continued for over a decade and even though Bennett had a lot going on at the time (including his prolific output which continued throughout) scant reference was made apart from at the end in reference to his personal life, which has been well-documented elsewhere.
Comment left by michelle mckay on 13th May, 2011 at 15:37
ps I had the surreal experience of bumping into the two "alan bennetts" in town the next night, they had obviously just finished that evening's performance, but it was an unexpected pleasure to encounter them:)