Hope
, 47 Lark Lane, Liverpool
Till 28th August 2013
Reviewed by
Ideally art and creativity should first and foremost speak for itself. However as we all know particularly here in Liverpool it's never as simple or as ideal as that. Thus a "homeless arts project" can not otherwise but frame the artist and their work before it's even viewed, but such are the socio-economic constraints of current public funding with its accompanying tick-box criteria which determines what is and isn't worthy to be funded, promoted or allowed to happen. So my first task in writing this review is to adhere to my first statement and uphold that principle.
I had originally tried to view the artwork and speak to artists on the opening day, however when I arrived at Arts Hub 47 on Lark Lane, a very small shop with an arts space upstairs, there was a queue to go upstairs. I did attempt to squeeze myself upstairs, but it was too claustrophobic for me on one of the hottest days in July, so with a huff and puff I chose to depart.
Next day I was able to view the artwork in quiet contemplation in the two upstairs rooms set aside for the exhibition. The exhibition entitled HOPE is a collaboration between Arts Hub 47 and the Shaw Street training and support project for homeless people. Becka Griffin, of Arts Hub 47, said "Due to my involvement with residents on a voluntary basis I decided to suggest an exhibition at the Arts Hub and the residents jumped at the opportunity. They have worked really hard to create a diverse collection of work for this exhibition."
The idea of the project was to bring to the attention the hopes and aspirations of homeless people through their artwork and the comments they've made alongside their work represent a view of their artistic backgrounds along their 'tick-box' employment or education hopes for the future.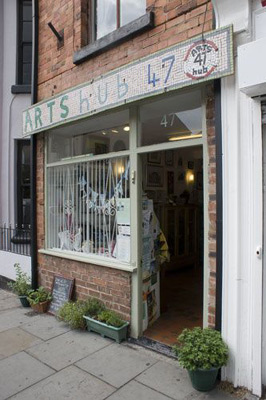 Tommy "The Socialist Philanthropist" Murphy has a substantial amount of artwork on display all acrylic on canvas. The first one that catches my eye is entitled "Manic" and has an appropriate quote above it "I painted how I was feeling." Another piece entitled "Breakup" is a ship wreck on a rocky shore. Much of Tommy's artwork makes use of big strokes of contrasting colour such as in "DNA" and "Colours". Three other acrylics are more doom laden, including "Blinded by the light", "Nuclear fallout" and "Doomsday", underneath these three pieces is his statement of future intention "I hope to study music at University". A further four pieces includes "Lily of the ponds" which is of an abstract nature and has been sold, alongside are three vertically displayed pieces entitled "The Blues". A group of five cover another wall with the titles "stressed1" through to "stressed 5". Tommy uses colour and his canvas to express his emotional state at the time of painting them and has said: "I've come such a long way since I've been at Shaw Street. I'd never even picked up a paintbrush until I started coming to the art sessions. I have found a new way to express myself." Tommy is hoping to move into his own flat in the near future.
Next for my attention is Garry "The Daydreamer" Williams, another acrylic on canvas artist, first I view is "Crimson Sunset" which makes substantial use of reds and browns in an abstract style. Above this piece are two statements "I didn't think I could draw" and "I hope to study to become a mental health nurse", filling a tick-box undoubtedly. Garry is another abstract artist and two of his pieces are entitled "Haze" and "The China Syndrome" both us bold strokes of colour on canvas accompanied by the quote "I couldn't even draw a stick man before I came to art" underneath these two pieces is a book full of Garry's poems and writing. On another wall there are three pieces entitled "Love, Hope and Peace" which use a more softer range of colours showing three simplified countryside views - this 'tryptich' has been sold. Another of his pieces is footprints, which is animal footprints on what must be a beach or desert from the use of colour and is accompanied on the right by the poem "footsteps in the sand" by Mary Stephenson. Much of Garry's work is abstract in nature and this is clear in three other pieces entitled "The Scripture From Within", "Fallout" and "Morning Dew".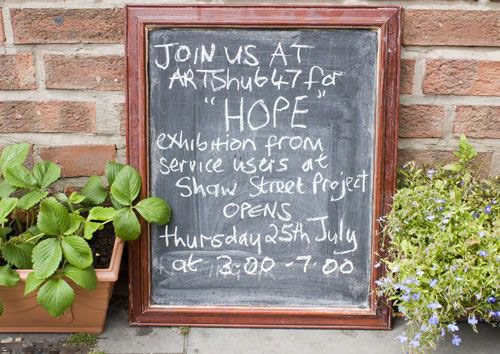 Gary Grocott also favours acrylic on canvas, firstly there's a crowded vista of Liverpool's waterfront as viewed from across the river entitled "Nightfall", above it is the accompanying quote "I slept here when I was street homeless."beneath is "The Hub" a flat and simplified impression of the ARTS hub 47 shop front, beneath this is "Celebration" which I can only describe as the essence of Christmas in colour and paint style. Another piece is entitled "Torn" which is a bright use of colour and broad strokes of the paint brush, but what it's saying is beyond me, though it's visually attractive. "Greece" is bright and makes over use of white to make its point but that might because it's unfinished. Gary says: "I had never thought about art before, I didn't think I could draw". He is now a prolific artist and spends a great deal of time drawing and painting. He hopes to go on to study art in a formal setting.
Ceila McGowan's has some pleasant photographs of flowers in a meadow on display.
The Riverside Housing Association's manager at Shaw Street, Julie McInnes, said: "The residents' artwork is for sale to raise funds for the Shaw Street Project's Living Skills Fund, enabling ongoing activities for all residents."
The new 'Hope' exhibition runs until 28th August 2013 at the Arts Hub 47, 47 Lark Lane, Liverpool.
For more information on the Arts Hub 47, and to find out more about regular exhibitions, please visit or call 0151 727 0323.