Fridge Festival
Urban Strawberry Lunch at St.Luke's Church
Sunday 26th August
Reviewed by
Promoted as an afternoon's musical alternative to the Mathew Street festival. I'm not a fan of "Kareoke with guitars" as I annually refer to the free festival of covers and tribute bands. Let's be honest it's really not fertile ground for anything new, different or indeed exciting within British music or here in Liverpool, anyhow rant over.
While the afternoon was sunny it wasn't always as warm inside St.Luke's church as the sun would seem to promise, so I did end up chilled as a fridge.
First on was Kim a solo performer who certainly sounded great harmonising with herself thanks to the skilful use of an effects pedal, nothing immediately hit me or stayed with me from her performance though. Next to hit the stage was the Dead Hedge Trio, who are a Jazz trio and my only fair and honest comment has to be, I don't really like Jazz - so couldn't comment fairly.
Third on was a young man called whose songs have a moody feel about them, while nothing particularly grabbed me, I can't say I was put off either, in which case I wouldn't might seeing him again his online recordings certainly reminded me of what I heard him in his set.
Next on was (below) with a unusual looking guitar and not the only one of the afternoon, full on slide guitar and a lively bluesy feel some great tunes and accomplished playing with accompaniment on harmonica at one point, the electric urban blues were a delight to hear on a warm summer's afternoon full of energy and accomplishment.
The only band of the day were something of a traditional beat combo that Liverpool seems to produce every decade, I thought they were called themselves "The Polyglots" obviously not as in their publicity they're called (below) which looks like a tongue twister to pronounce. They were certainly entertaining and lively. They brought their fans and friends with them to offer support, while I can't say I recalled anything particularly outstanding, they didn't offend the my ears either.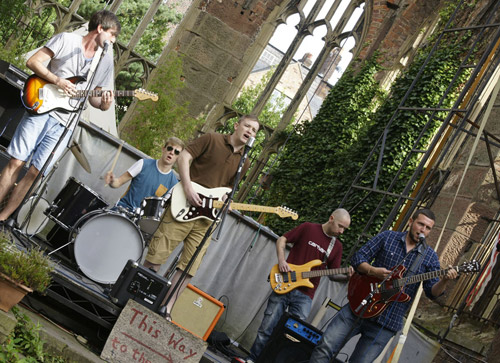 I didn't quite know what to expect with the next performer who I've bumped into over the years but have never heard sing. It's always great to hear something unexpected and welcome. (below) is Karla Ambrosius on vocals, who produces her own original music backing tracks and on this occasion was accompanied by a performer who alternated between hand drum and Kalimba, also known as a thumb piano. There's a spacious, airy feeling to the music and Karla's vocals blend very nicely, while simultaneously having a calming mood it also demands being danced to. This is the music that should have a loyal following that packs out 'happening' music events here in Liverpool, it certainly stood out as a unique breath of fresh air. The accompany link will give you some idea of what was real ear candy to me, this is original, new and surprising, well worthy of representing the best of Liverpool music that's so sadly being overlooked by the backwards looking British music business.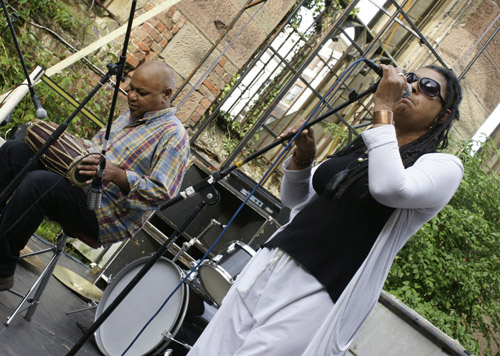 Up next was the second contestant for strange looking guitar of the day, looking like a traditional folk guitar giving live birth to a four string offspring. (below) is the stage name of Nick Kenright who is a multi-talented solo performer who certainly exhibits plenty of energy. If truth be told the man has a surplus of talent and as for energy he certainly puts it all into his music. Nick's performance can be described as instant live song production, whereby through the technology of his guitar effects pedal board which includes various samplers he builds up his song from beat box, bass and rhythm section through to backing vocals and over laid harmonies. He's truly a one man band and live sound producer. This of itself is quite an amazing feat experiencing him literally create in real time a multi-track song. While he played a few cover tunes, they were all highly original and never strayed into cheesy kareoke. I could feel a smile warming my now chilled body and that later progressed to a wide grin. Kenny and the Energy provided something highly unexpected and superbly entertainment. I have to say I was overwhelmed and the performance alone made it worth staying for the full afternoon, the best was indeed kept to last, I certainly hope to see Nick perform again soon and get the kind of recognition such original local talent truly deserves.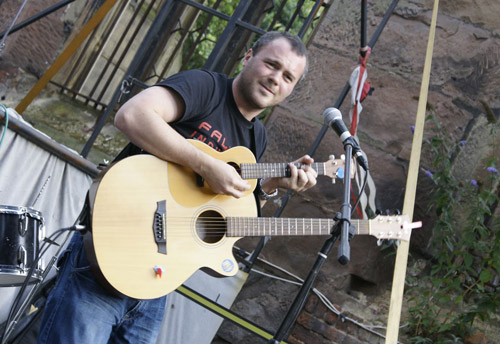 Respect to Urban Strawberry Lunch for putting on a worthy showcase for local talent.
Comment left by John H. on 12th September, 2012 at 7:48
I enjoyed playing the CHILLED festival it was a good day ,a fine afternoon and some good and varied players ! Wouldn'y mind doing it all again! Nice Photo's of the event and review!