errance
jazamin sinclair exhibition
, Liverpool
Till 20th September 2015
Reviewed by
The Egg Cafe is host to a solo exhibition by this multi-faceted artist in both it's eatery and overhanging loft space, and a wonderful venue it turns out to be for this solo exhibition of paintings, photographs, drawings and illustrations. The home of vegetarian and vegan food in the middle of town provides ample wall, stair and partition space for the artist to display her wares.
At the cutlery stand comes the first assault on the senses in the form of six abstract miniatures from a series called 'improvathon'; amongst them representations of 'recycling', 'i-pod' and 'mugs', if you can see them.
The back of this partition wall is much more evocative. 'sefton park 3&4', in swirls of green, brown and yellow instantly conjure up shady nooks and sunlit vistas.
In contrast, by the serving hatch, are two indian ink and watercolours on paper that are a riot of salmon pink and rose red. Only on closer inspection do they transform into items very pertinent to what is going on elsewhere in the exhibition.
Sinclair, who uses 'lower case' phraseology both in and to describe her works, is keen to show that she is an old hand and has done the rounds on her travels; the show's title hints at thinking out of the box.
The main body of work on display consists of images of trendy young professions, women mostly, coming to terms with life in the big world in both their psychological and philosophical head space and alongside flatmates, boyfriends or socialite friends.
Most pictures carry an india ink legend to help translate what is happening in mundane everyday situations, as images of sharp haired, cosmetically astute and well-heeled people talk either to themselves or another person.
These randomly dispersed satirical cartoon caricatures, in faded or muted shades of pink or violet, reflect on life as a glass of Chardonnay less full than when the exhilaration of the journey to independence first took off.
Amongst these icons a woman at a bank till ponders whether she should still be spending her wages profligately in, 'networking'; 'language', epitomises the breakdown in father/daughter understanding; 'birdsong', the joys of being woken up with a big head at 4am; 'dating(2)', the frustrations of the polite etiquette of up market computer dating ("if you mean getting wasted and fucking for the rest of the night, I'll see you at 8 ; 'cheese toasties', how to suavely deal with mouldy bread at a house party and, when their is no bread, how to slouch around all day until your flatmate comes home from work in 'pyjamas and hobnobs'.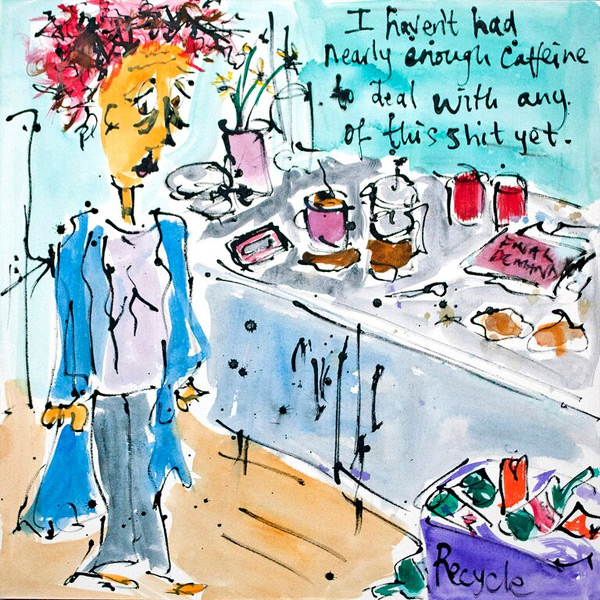 Turn a corner and there is the shock of being brought back to earth by a wall of digital photographs out of kilter from what has gone before. Real colours; real contrasts. A pagoda-like bandstand is reflected in red and green ripples on water as is the iridescent streak of peacock blue mirroring some impressionistic trees, while the Martian red rust close-up of a truck equally vies for attention.
In contrast the brutal symmetry of the underground escalators in, 'stand on the right', hints at control and conformity, not seen before.
The same room has a charcoal female nude in competition with, 'converse all stars' in indian ink and watercolour on paper. Is it just baseball boots on display?
There is lots more to ponder in an enjoyable show in easy going surroundings, so sit back and have a mint tea amidst the people maybe being parodied on the walls around you.
The show runs until September 20th, so there is lots of time to make your own minds up.