Disobedient Objects
London
Until February 1st 2015
Free
Reviewed by
I arrived half an hour early to beat the crowds and was greeted with the two magnificent facade 'mosaic posters' on either side of the huge wooden doors and seven rows of ceramic tiles with revolutionary quotes on the steps leading up. These were made by Carrie Reichardt 'renegade potter and extreme craftivist'. One of the mosaic posters was called 'Power to the people' and the other 'History is a weapon' and both showed ordinary people standing up to police brutality. One mosaic included the words 'How many more people of color have to be killed by cops before you hate the state?' which is very relevant as another black man is murdered by the cops in Ferguson, Missouri, US. Also included were photos with the words 'Bibles Bombs Big Macs Love The USA', 'Nothing Is Inevitable Everything Is Possible' and 'Like Thatcher Only Worse'.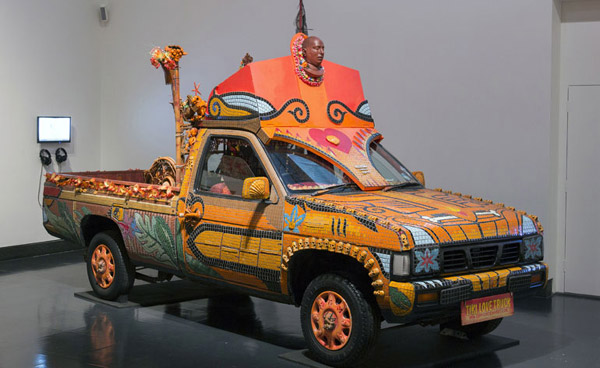 On the steps ceramics spelt out 'Think For Yourself. Act For Others' by Kenny Zulu Whitmore a Black Panther and US political prisoner imprisoned in Angola for thirty nine years; thirty five of those in solitary confinement. Another quote was 'The Essence Of Your Life Is Only Measured In The Way You Help Others' by Herman Wallace, another Black Panther and US political prisoner also incarcerated for forty two years in solitary confinement and dying within days of being released.
Many of our human rights and freedoms were only achieved by disobedience. Most of the objects in the exhibition are very grassroots made by ordinary people trying to change the world. Objects were produced with little or no resources often under pressure in sometimes complex situations. Direct Action is taking immediate action and not depending on others to change things. These actions can include strikes, civil disobedience and blockades.
There were literally hundreds of objects on show and a few films, the main one projected large and high up on the back wall. This was footage from many marches and protests including Palestinian resistance, tearing down fences in immigration centres in Nederlands, Italy and Australia, shutting down the banks in Barcelona, China's Tiananmen Square, Tokyo protesting attacks on the poor, Buenos Aires against neo liberal reform by saucepan bashing, Anti Apartheid non-stop picket and marches in London, Occupy Sandy US sign making, 'Book Bloc' student protest against cuts in Rome 2010, bunting and banner making in Chile, victory to farmers in Karnatika, India, Gezi Park camp in Istanbul and Greenham women for peace. We also heard from Southall Black Sisters and their struggle, activists Laurie Penny and Ewa Jancewicz and various other speakers.
There's a recreated Bike Bloc which was originally created for the COP15 Climate Summit in Copenhagen 2009. These are made from bikes welded together into machines of creative resistance and can also have trailers with loudspeakers (Sound Swarm by Filastine ). These bikes formed blockades and could protect thousands of environmental protesters.
Lots of banners fill the room, a Greenham Common one made from military balloon fabric and bridesmaid dresses, A South Yorkshire one commemorating the Battle of Orgreave.There is even a GLITUR unicorn rampaging banner against gay oppression.
There are placards from Moscow to protest Putin standing for election, book blocs used by students to stand up to the police on street demos and street signs for the disappeared in Argentina. Bust cards are on show for advice on how to deal with police harassment regarding drugs and gay rights. There are guides for Non Violent Civil Disobedience Campaigns inspired by Black Panther pamphlets.
Arperillas are appliqued textiles which originated in Chile to document violence and hardships during Pinochet's dictatorship. There is a Shannon, Ireland one made to represent the monitoring of Shannon Airport used by the US military 'Shannon Airport- Still Open For Torture Flights'.
A free mobile phone app was produced in Italy 2011. The game is about coltan mining in the Congo . Coltan is a mineral component used in mobile phones and partly responsible for the millions of deaths in the war there. To win the game you have to force children to mine the coltan, protest the suicides in a mobile phone factory in China and dispose electronic waste unsafely in Pakistan. Unsurprisingly the app was banned by Apple itunes after four days.
The Barbie Liberation Organisation in USA 1993 reversed sexual stereotypes by switching the voiceboxes of Barbies and the popular GI Joe figures for boys so Joe said "I wanna go shopping".
The most moving thing for me though was the Tiki Love Truck and accompanying film by Carrie Reichardt. This is a truck completely covered in mosaics and objects originally commissioned for the Manchester Art Car Parade. In pride of place above the windshield is the death mask of John Joe Amador for whom the truck is dedicated. It is a statement against the death penalty.
Amador was an innocent man executed by the state of Texas on 29/8/2007. There is an accompanying film of the making of his death mask immediately after his death. Carrie was a friend of his family and was present at the execution. Carrie, John's family and the artist Nick Reynolds took John's body straight from the undertakers to a cabin in the woods where Nick made a death mask. This was so people would remember John Joe Amador and raise awareness of how the death penalty in the US kills innocent men. To see a recently dead man's skin react with goosebumps to the plaster is chilling to watch. 'To Know But Not To Do Is Not To Know At All'.
In the corner there's an empty space for future objects of disobedience and it will be interesting to see what goes there. As I left I spoke to the gallery assistant who showed me her object of disobedience a sticker saying 'PCS We All Need A Pay Rise'. I suggested she stick it in that corner! There are plenty more disobedient objects in this exhibition. I would really recommend a trip down to see it, you definitely won't be disappointed.
Ceramic intervention on the steps of the V&A:
V&A 'DIY how to guides':