Dalston Anatomy
By Lorenzo Vitturi

London W1
On until October 19th 2014
Reviewed by
London's East End is home to the multicultural and lively Ridley Road market in Dalston. I visited the exhibition with my mum who grew up nearby and visited the market every Saturday with her mum. Ridley Road was also the last place I saw my homeless Uncle, my mum's brother, so we were both emotionally affected by this visit.
The Italian artist Lorenzo Vitturi was witnessing his local market being rapidly gentrified and wanted to capture it before it's original character had disappeared. As a natural collector he spent seven years at the market accumulating found objects for this project.
This really is the most original and vibrant exhibition I have ever attended. The colours everywhere in the gallery space are so bright and vivid and the layout is extraordinary. It is a mix of photography, sculpture and installation and consists of objects such as cut up ancient wooden pallets, bits of tarpaulins, fruit, vegetables and of course photos of the locals who worked there or visited.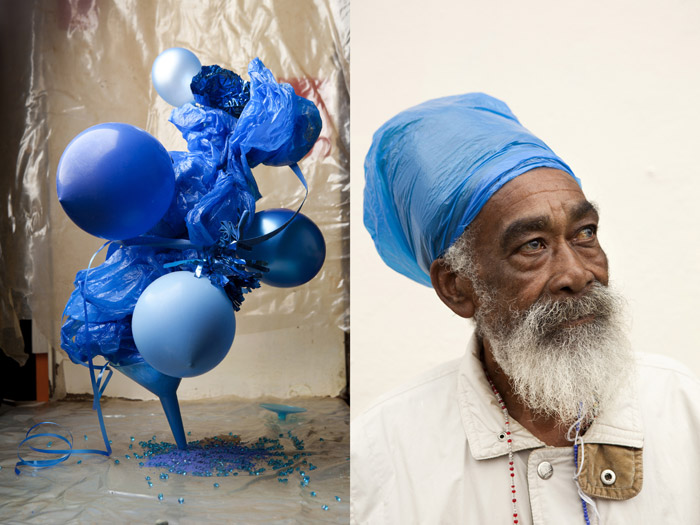 Lorenzo Vitturi - Plastic Bue 1 and 2, 2013
There's a metal installation snaking down the middle which is like an abstract market stall, bits of table and tarp added. At one end is a huge installation of objects about ten feet high comprised of many colourful things including a large upturned plant pot, shredded loofahs, plastic scourers, hairpieces, a wooden bowl, half of what looks like a water butt, dried corn sheaves and a big orange exercise ball partially covered in bright fruit netting. Everything looks as if it is precariously balanced and you wonder how it stays up.
Many of the photos on the walls are of fruit and vegetables, some like the painted black bananas look like living sea creatures. Others are still-lives' appearing to explode up and out. Some have detritus like plastic bags or streamers added. Some have colour themes like the yellow ones with melon, corn, pears and a pale apple. A few have a pop art look with more garish compositions and fluorescent labels. Some objects have pigment on them to maximise the colour and give it a different texture. Most of these found objects have backgrounds of discarded market materials.
In one corner is a huge installation with a photo of towels on the side of a stall that look so real you want to reach out and touch them. There are various portraits in amongst the work of people the artist met on his daily walks, I especially liked the man with the blue plastic bag turban.
The work has some photos resting on stacks of pallets, other photos have the wall behind them painted a complimentary shade. A few are up high on the wall and some down on the ground. Everywhere you look you are made to feel part of a surreal bustling market scene. There is also a book available of many more images to look at so if you can't make it to the show you can read all about it!
| | |
| --- | --- |
| | |
| Lorenzo Vitturi - Hairy orange, yellow balloons and rotten camote #2, 2013 | Lorenzo Vitturi - Green Stripes #1, 2013 |