Jackson Pollock: Blind Spots

30th June till 18th October 2015
Adult £10 / Concession £7.50
Reviewed by
At his 1949 Betty Parson's gallery exhibit, Jackson Pollock revealed a model museum in which his works were suspended, in miniature, on free standing panels in a box-room of mirrors. Like Narcissus with a dyed perm, these wiry paintings reflected off the mirrors and became the room itself. Although Tate Liverpool have kept the black pourings firmly on the walls, unable to weightlessly envelop the gallery goer, the effect achieved is somewhat similar. This selection from 33 canvases, mostly painted in 1951, unfolds like charcoal chapters of an intended sequence, even though there is no hard evidence to show they were created this way. One of the stranger theories about this gloomy suite, proposed by E A Carmean Jr., is that they were originally planned to decorate the walls of a hexagonal Catholic chapel. Whether the peeping figures and dark clouds are supposed to be an Abstract Expressionist 'Stations of the Cross' - faces of the grieving Apostles, a flicked-out Saint Veronica, views of Golgothan terrain - is very difficult to confirm, and probably unhelpful.
Interpretations that seek to glean clear poses and iconographic borrowings are likely to ignore Pollock's dense calligraphy; perhaps there are Plagues of Egypt or Jungian alchemies to be found in these strange nocturnes, but there are important formal innovations too. This is not the Dripper's Iconologia.
These murky works resulted from a humble mix of painter's brush and turkey baster (adding 'fine art tool', alongside 'insemination' and 'Christmas dinner', to our associations of this basic kitchen item), a technique Pollock had developed over many years. Prior to these, he had arrived at his classic period of misty emanations by skimming paint across the canvas from all angles e.g. Lavender Mist and Autumnal Rhythm, both 1950. Both during and after this phase came experiments with spattered cut-outs on masonite panels, which resemble Matisse's vibrant paper collages; impasto patches surrounding a stuck-on toy wooden horses' head; and, finally, the industrial paint revolution - Duco, Devoe & Raynolds black poured in arches, circles and blotches.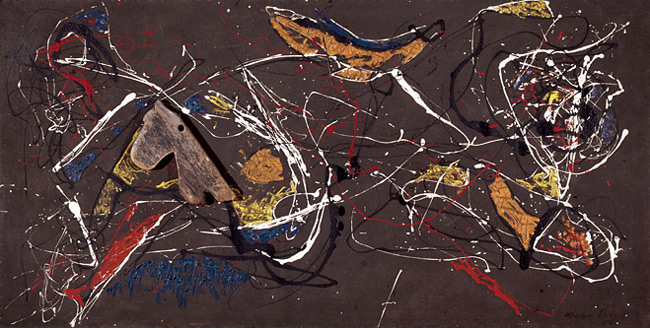 The Wooden Horse, 1948
Possibly influenced by an exhibition of black and white paintings by European artists at the Samuel Kootz gallery, Pollock's interest in monochrome is also evident in earlier try-outs like Triad, 1948. Here, two skeletal white figures are dancing against a pure black background, one almost breaking a leg as it leans back and high-kicks to an unknown rhythm. This is a sign of the figurative pirouetting its way into the abstract, something which Pollock thought was a necessary consequence of opening up his unconscious mind: "figures are bound to emerge…painting is a state of being". Begun a few years later, the works in this exhibition show the emerging figures have stopped dancing and started to struggle within their abstract world. No 14, 1951 hides a head that looks out of the tendrils, similar in sullen struggle to William Blake's Job, and the so-called "Frogman" of No.23, 1951 practically croaks as he's drowned in a pool of black enamel paint.
Some of the works, especially the mesmerising Portrait and a Dream (1953), contain faces floating uncomfortably next to gyrations of line and limb, reminding us of the numerous photographs taken of Pollock looking surly beside his own work. Hans Namuth's stills and videos of Pollock painting in his studio, while his loose, finished canvases dangle down from the barn roof above, are now iconic records of creativity. However, in the aftermath of such exposure, Pollock felt anxious and remarked to his friend Jeffrey Potter that he now had sympathy with the primitive fear of photography on the mystical grounds that it must steal the soul as the bounty for capturing a good likeness. Similar to the "that-has-been" finality that Roland Barthes thought was the tragic effect of photography, the soul-snatching loss of having your unconscious mind caught on tape seems to pervade this new self-conscious, even mournful, style.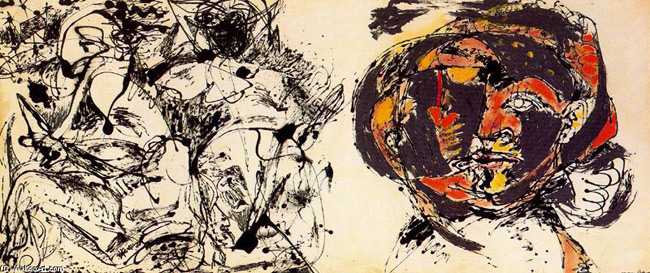 Portrait and a Dream, 1953
Also in this fascinating exhibition are plaster and gauze sculptures (sculpture was apparently Pollock's first artistic calling) that look like old earwax and a small room's worth of drawings on Japanese mulberry and Howell paper. With artistic indolence and the return of alcoholism souring productivity in his last years, he became a drunk unable to drool or drip. He was repeatedly asked by dealers to organise a retrospective due to lack of new material; to bundle the strange late works in with the recognised triumphs. Tate Liverpool ignores this and focuses closely on the extraordinary black series. Odd patches of colour in Yellow Islands (1952), a flat earth of a painting, are here to remind the viewer of the stark colourlessness of the starring sequence. A distant relative of the Surrealist's parlour-game drawings of mismatched cadavers, a game which Pollock regularly played with his wife and fellow artists in the 1940's, this series is more of an exquisite corpus; through the course of the half-figurative drips and pours, artist and signature creation are being stitched back together in desperate surgery. A must see for anyone wanting to see the late Pollock.