Arts By Offenders and Secure Patients
The Co-operative Koestler exhibition for the North West 2011
, 41 - 51 Greenland Street, L1
4th March - 27th March 2011
Reviewed by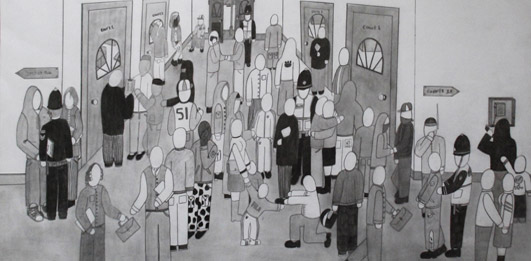 I got a warm welcome from Emma (why are all scouse girls beautiful?) at the CUC.
This exhibition is amazing, containing a lot of thought provoking, stunning, diverse, outrageous artwork that you will see this side of sanity, and I don't say that lightly.
The work has been created by prisoners, people in secure psychiatric hospitals, secure children's homes and those on probation.
This is the only time you will see this amount of ANGER - to some people making this type of art is the only way of expressing their anger, rage, shame, guilt, sorrow, hate, love. Some of the artwork shakes you to the core.
The tormented broken souls' paintings, drawings and writing shines through - the sadness contained therein can't be ignored. Parole boards should have an art therapist sitting there explaining what the person is trying to convey.
Maybe with some people it's their only way to say sorry or is it a cry for help - no, yes, why, when, how, can I? (the unasked unanswered questions).
The poems strongly caught my attention, first BOSS boss BOSS - the words are so powerful, painful, pitiful and mindful.
God, some of these poems had me in tears and laughing out loud, but others just made me sit and think.
Pain is a word I know well through serious family problems.
"Daughter in a pushchair, sacrament of fatherhood, and this is where we eat." These words are from the words of art creative writing project at HMYPI Thorn Cross. "Hiding emotion, busy emotionless crowd, inside they are screaming!"
I have been right there in so much fucking pain, I just wanted to lay down and die, but I went on with the thought in my heart that my loved ones will come back one day.