Wunderkrammer: A Cabinet of Curiosities
, Hanover Street
28th July - 25th August 2007 (Mon-Sat, 10.00am-5.30pm)
Reviewed by
Currently showing at the Bluecoat Display Centre is the marvellous Wunderkrammer or Cabinet of Curiosities. Wunderkrammer or Wonder Rooms first became popular during the Renaissance, and were used by nobleman and kings to display their most unusual gifts and possessions. Unlike today's museums and exhibitions there were no defined classifications, which meant a wunderkrammer could contain objects from a wide variety of disciplines from biology to art.
The collection at the Bluecoat is no different. Turning left as you enter the exhibition will bring you face to face with such delights as a mouse tail necklace and a mouse foot necklace. Rebecca Maevoy's gruesome jewellery is her protest against animal cruelty and the Bluecoat are quick to point out that no animals were hurt for the exhibition as Rebecca collects her material from animals that have already died. The gruesome theme continues with Craig Fishers' oversized implements of torture, but you'll have to pay a visit to the exhibition to see that all is not as it seems.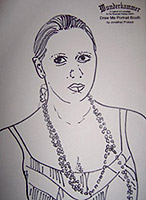 At the other end of the spectrum Anna Howarth as created some beautiful and technically intricate paper cut-outs that invoke a magical dreamlike feeling. Her large cut-outs depict butterflies, fairies and a variety of animals. Roots and Wisdom is a delightful piece by Cordelia Cembrowicz. Using nothing more than some cotton wool and some teeth - from animals and humans - she has created a scene containing a variety of different fairies. But if it's portraits that hold your interest try the draw me a portrait booth, where you can get your portrait drawn in less than 3 minutes. This collection is truly a room of wonder and is well worth a visit.