Sunn 0))), Earth, The Bendal Interlude
Roadkill, Hope Street, 13th February 2006
Reviewed by
Roadkill - Liverpool's excellent new rock venue on Hope Street - played host to three bands on the cutting edge of the underground metal scene. There are no words which quite do justice to the proceedings that night, but 'immense' at least comes close.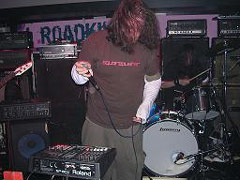 The evening's entertainment began with local favourites The Bendal Interlude. The band consists of four hairy, sweaty and angry young men who pride themselves in rocking like motherfuckers, churning out the kind of riffs that made doom/stoner metal bands like Cathedral and Kyuss the legends that they are. Vocalist Nat Gavin - often kneeling or crouched on the floor attending to his sample gadget - roared and growled his way through, while his bandmates banged their heads enthusiastically. The audience thought this was a good idea, and quickly took up the activity for themselves. And why not? This is real headbanging music, done properly.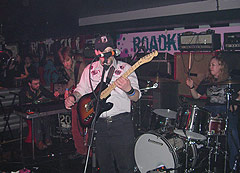 Awesome as The Bendal Interlude are however, they remain largely unknown outside of these circles. Now it was time to bring out the big(ger) guns. Olympia, Washington's Earth have achieved international acclaim since forming in 1990 in the middle of the grunge explosion, and are widely known for their brand of slow, ambient and bass-heavy drone metal - not to mention their work with deceased Nirvana icon Kurt Cobain. Having split in the late 90s only to return in 2002 with a new lineup, Earth are as potent today as ever before. Their set consisted of four drawn-out instrumental jams based on previously-recorded material. Guitarist Dylan Carlson complimented the dark and lugubrious atmosphere with occasional mysterious countrified lick, while current drummer Adrienne Davies carefully held it all to together, with eyes always closed. Mesmerising and hypnotic.
However, nothing could've prepared anyone for what was about to take place. Sunn 0))) - pronounced 'Sunn' - started out as an Earth tribute band, so it was only natural that they followed their heroes on the bill. Don't think though that the band are mere Earth copyists. This is an entirely different beast.
The smoke machines worked their magic long before the delayed entrance of Sunn. The audience - who had paid £10 for the pleasure of seeing the band, was getting restless. What better way to introduce the most horrible 'music' you're ever likely to hear?
When Sunn eventually took to the stage, they were dressed - typically - in long black hooded cloaks, like some kind of inverse Ku Klux Klan. A dramatic entrance fit for the most twisted band on the planet, whose set consisted of one constant hour-long drone, and approximately three different notes. Sunn are not you're typical rock band. Although it's not as if they haven't used drums before, there was no drummer for this performance. That would've just been wrong; the focus was not on any kind of rhythm or beat.
Sunn currently involves two guitarists, a synth player and a vocalist - who entered after thirty minutes. The band's sound is extraordinary; their deafeningly loud and painfully slow feedback-laden sonic textures are quite unique, with only Japanese noise pioneer/Sunn-collaborator Merzbow as an obvious reference point. They are now a million miles away from Earth. Then of course, there were the impossibly heavy and distorted bass frequencies which shook the venue to its foundations. Some audience members were seen rushing off suddenly to the toilets - mission accomplished for Sunn then - while others held their ears. A couple of people even looked to be on the verge of tears. However, everyone else was truly immersed in the experience. There was no headbanging - this is NOT headbanging music - but there was plenty of swaying and hair-dangling. Just feet away, band members kicked their stage monitors and flailed their arms around, summoning demons from their amps through thick walls of smoke.
When the cacophony suddenly ceased, the roar of approval from the audience was almost as deafening. Sunn fought their way through an army of shaken hands and devil horns, doubtless on their way to some mysterious secret cavern in search of yet more diabolic delights. The sounds of Slayer bellowed satanic rants over the PA system, but the true sound of hell belongs to Sunn 0))).
For more information on these bands, visit the following websites: