American Splendour
Directed by Shari Springer Berman & Robert Pulcini
Reviewed by
Tired with Hollywood plundering comic books for material? Then meet the real Captain America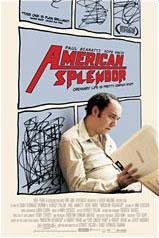 From the opening credits of American Splendour you know you are watching something truly original, and you are. Set against the backdrop of 70's and 80's Cleveland, American Splendour tells the true story of Harvey L. Pekar. Who is Harvey L. Pekar? – Well, who are any of us? Harvey Pekar is the ordinary, miserable hospital file clerk who turned his ordinarily miserable life into a series of comic books earning both underground cult status & critical acclaim. Fighting loneliness, depression and the prospect of ending up as just another file in the hospital records, Pekar used his friendship with cartoonist Robert Crumb to create the American Splendour series, breaking the mould of comic books & quickly proving that even a "loser" can leave his mark. He became a favourite on The Letterman Show but never got swallowed up with the celebrity status heaped upon him and his co-nerd-workers by the likes of NBC and MTV.
The real strength of this film, however, lies not in the story itself but in the delivery. Using jazz music and cleverly weaving fictional & documentary style scenes, archive footage & cartoon fantasy, American Splendour tells a tale that is quirky, very funny and at times incredibly touching. An important film to counteract all the so-called "block-busters" scrabbling for Oscar attention at the moment.
Perhaps this film is best described by one of Pekar's old university friends while discussing the book Jenny Gerhard – "It's not your typical Hollywood ending but it's truthful and that's pretty rare these days".
Thank you FACT