Exhibition of works by Eric Orme and Roy McCarthy
At Kif Gallery, Parr Street
The exhibition runs until 20 August.
Reviewed by
Abstraction is the name of the game in this exhibition of paintings by Liverpool artists Eric Orme and Roy McCarthy at the Kif Gallery in Parr Street.
They use many forms of media, including acrylic and collage on paper, mixed media on canvas, paint on cardboard, and etchings.
They have already sold several pieces in the exhibition, which is a confidence boost for any artist.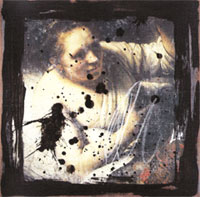 McCarthy, of which, surprisingly, given the high standard of his work, this is his first public exhibition, generally uses large format canvases (four foot by five foot approximately), the most intriguing is the 'One and a Scholar to Ford', which has an unusual and fascinating blend of colour.
McCarthy's triptych, 'I've Been Trying To Find You' ,is also notable for its predominant and strangely appealing use of grey tones.
I also particularly liked 'Pink Painting', which projects a smooth and subtle form of abstraction.
Orme, the more experienced of the two artists, perhaps has a more diverse approach to his art, notably in his pieces, 'Red & Cross' (acrylic on canvas), 'Small Spiral', and among his impressive etchings, 'Etching' (Brown and Red)'.
Many of the abstractions by Orme and McCarthy are reasonably priced, so it might be worth a visit to snap up one of these bargains to add to your art collection, if you have one!