Liverpool Music Week
4th-13th November 2006
Reviewed by
Ten nights, two hundred and twenty bands, fourteen venues and hundreds upon thousands of musically hungry punters all packed nice and tight into the city centre 'equals' - Liverpool Music Week 2006. It was a storm of an event, a mini cyclone in the midst of November.
Months of preparation and organisation paid off huge dividends for the musical culture quarter of Merseyside, as the monster music week continues to swell with each passing year. Hosts such as the Carling Academy helped kick off the party on Saturday 4th November with Shack the almighty legends, and their unplugged gig that put pace to the jam-packed entertainment following close behind.
Bumper (the main host venue), took the strain as the place was full to busting night after night; highlight bands being The Aliens with their sex surge and liquid hot, rock music, 'Lyons & Tigers' (pictured) with an edge of wit and wilful entertainment keeping all eyes on them as they pranced and capered their set away. The Wombats were in pinnacle shape, oozing quality star confidence, rocking the youth that watched them. Mugstar were liquid movement to sound, with a darkness that grabbed and pulled you in. Voo assertively progressed from 2005 Music Week, giving hot, rabid kick drumming against heavy effective bass and paradoxical vocals. Wolfpeople were up there with the best of them too and having just made NME single of the week look set to continue climbing the musical ladder. There was something for everyone with legions of artists giving their soul for their music.
Red hot atmosphere was taking place (if not taking over) in The Metropolitan, where some of the 'ultimate' entertainment powered out. We See Foxes' (pictured) are a band to watch out for with their frontman exerting a feverish appetite for exhibitionism whilst The Regimental have got the capacity to bruise with their kick-ass mad ska ferocity. Edgar Jones & The Jones blew the roof with their infamous jazz 'n' blues cutting edge tunes and just when you thought you'd time to catch breath there was the blowaway happy swing time that is The Great Northwestern Hoboes.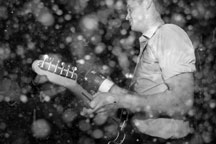 Mind-bending madness was going on in Bar Fresa with Apatt and DJ Scotch Egg; the venue was rammed, hot and very sweaty. The Zanzibar put forth The Veras and The Neon Hearts. The Magnet played host to showcase acapella and vocally original bands including the Sense of Sound Choir. One could easily have got lovingly lost in the powerful vortex of this event. The Bumper closing party was amazing with 28 Costumes (pictured) in a class all of their own and the 747s completing - with skill and studded style - the mammoth musical ride out of town.
This was a success from start through to finish and long may it thrive in the city of Liverpool. Be sure to be there at the front next year.