Michael Franti and Spearhead
Liverpool Carling Academy, 4th December 2006
Reviewed by
Where else could you find a little bit of heaven in Liverpool on a wet Monday evening? Ask anyone who was here at the Academy that December night, and they'll smile and tell you the same: with the amazing Michael Franti and his mighty Spearhead crew, that's where we were. This was one of the gigs of the year in the city. End of review. (I'd like to leave it there for pretentious literary reasons, dear reader, but it would short-change us both).
Michael is simply the best advert for humanity I've ever personally encountered. Not only that, but he and his blessed band kick your arse - and touch your soul - in many languages. Listen to me when I say: he's not the new Bob Marley, Gandhi or Jesus - he's the original Michael Franti, Oakland San Francisco's celebrated son. And tonight, he is yelling fire in a basement in the future Capital of Culture.
Last time I saw these, they headlined the brilliant Eclectica festival in St Helens in August, a gig which bass-player extraordinaire Carl Young (the Godfather of Spearhead) told me afterwards was where this tour started and one of their best, "in a funky little town square in the rain".
The gig began with DJ Chief Boima, who got things nicely bubbling with a choice selection which set the tone for the night: one love.
The floor filled up as the band came on one by one, Carl on Bass, Dave Shul on guitars, Mannas Itiene on drums and Anthony Robustelli on keyboards. The opening track (the blistering and anthemic 'Time To Go Home') built as each new element was added. Michael's voice was heard behind the scenes, singing hauntingly: "Those who start wars, never fight them; those who fight wars, never like them.Don't take our boys away, don't take our girls away". Thenhe bounced on stage, truly six foot six above sea level in his bare feet.
The crowd went wild and stayed there for over twohours. Unsurprisingly, the latest album 'Yell Fire!' featured heavily. The album was inspired by Michael's trip to Iraq, the Gaza Strip and Israel, documented in the highly recommended and award-winning film 'I Know I'm Not Alone'. But the set spanned the whole Spearhead back catalogue, from 'People in da Middle' - the very first tune on their debut album 'Home' - through to the ecstatic 'Everybody ona Move' (Michael likes his bass LOUDY - as if we didn't know!). All funky, all soulful, all good.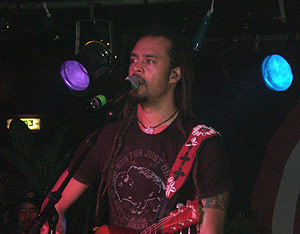 Part of what makes Spearhead Spearhead is their ability to blend a huge array of sounds and genres, verbally and musically sampling the history of 20th century music. In one of the many moments where this seemed less a gig and more a spiritual revivalist bounce-athon, they morphed a frenzied 'Love Is What I Got' with the 'Sesame Street' theme and 'Twist and Shout'. In another nod to his hosts, he also did a tremendous 'Here Comes The Sun'. After being stranded in Dublin through bad weather (they had to cancel the Glasgow leg of the tour), he was obviously pleased to be in the place, "with five hundred of my good friends". He was indeed a happy man, totally in his element and - as he told us at the end of a sweaty, lovely night where we all bounced like Tigger - "Liverpool - I'm already home!".
Other boss tunes in a lively set included: 'Sometimes', 'I Know I'm Not Alone', 'Yell Fire!', 'East to the West', 'Hey Now Now', 'Light Up Ya Lighter' (I killed 2 lighters to that one!), 'We Don't Stop', and 'Stay Human (All The Freaky People)'. To be honest, there were loads more, but I was too busy to jot them down, do you know what I mean? During the soulful and Marley-tinged 'One Step Closer To You', he had us all engaged in a mass hug-in. That's the Franti factor.
At the very end, he did his usual jumping off the stage and into the crowd to be with his elated fans. This guy is a genuine man of the people; all people, everywhere. Get these to play the city in 2008, and that's half the battle won if you ask me. If you've never seen Michael and Spearhead do their thang, do yourself a favour and seek them out, get any given album, play LOUDY and dance!
For more info, visit: