James Pagella
, Slater Street
3rd-17th May 2007
Reviewed by
It is good to see the former Cream shop being put to good use. The latest exhibition to hit the exquisite white-wall gallery space is a solo show of James Pagella's work.
James made a name for himself with his eye-catching poster designs for a number of local bands, including Cubical, Bexy Sitch and the Creepy Crawlies and his own group .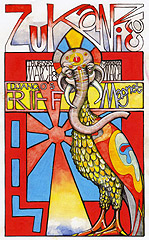 A number of his poster and flyer designs are featured here, some printed onto stretched materials, others effectively enlarged. The designs themselves, vivid and colourful, are heavily influenced by Indian art and Far Eastern culture, with the image of the rising sun featuring in one piece.
Pagella's inspiration doesn't stop in Asia. The Mexican and Egyptian influenced pieces add warmth and vibrancy, and closer to home, his passion for drumming acts as the muse for a good deal of his work.
The standout piece is Tabletop, an image of a ship painted onto a small, varnished table. The artist's father, who was a sailor, inspired him to work tirelessly in his attic over a long period of time. The result end result is well worth such efforts.
Comment left by hamish on 29th March, 2009 at 0:41
this kid is as good as he was when he was sketching as a young boy. glad to see nothing has distorted him .....pure honesty