An Antidote To The Ghastly Turner Prize
The Stuckists
, Mathew Street
6th-29th November 2008, Thu & Fri 12-4pm, Sat 12-5pm
Reviewed by
As artists throughout the centuries have discovered, expressing what you think and feel about the world can be a dangerous business. Istanbul-based Stuckist artist Michael Dickinson found this out to his cost, when he was arrested, detained for ten days, and charged with insulting the Turkish Prime Minister's dignity. His Best In Show collage (above) portrays Recep Tayyip Erdogan as a dog, and George Bush awarding him a rosette for his Iraq war support.
Postmodern conceptual artists don't have to worry about that sort of thing. They inhabit a world where nothing means anything; there are no opinions, only sensationalism and shock value. People such as Damien Hirst and Tracey Emin are often controversial, but in only in the sense of 'pushing the boundaries' - a substitute for holding a mirror up to the world, or even looking themselves in the mirror. The establishment courts them and handsomely rewards them for their efforts.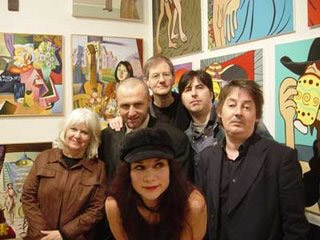 The Stuckists define themselves in opposition to the multi-million pound industry art has become, and they fight for 'remodernism' - the "quest for authenticity" as the original Stuckists Billy Childish and Charles Thomson described it in their 1999 manifesto.
Having said all that, I found this selection the least impressive of the three Stuckist shows I have seen in Liverpool. By the standards of many exhibitions in the city, it is a delight, and it certainly one of the most interesting shows at this year's Biennial. But that isn't saying very much.
Perhaps I can put this feeling down to the enormity of the unfolding economic collapse. In the current context, it seems that what's on show at View Two - frank depictions of sex acts and more denunciations of celebrity culture - doesn't quite cut it. Even Michael Dickinson's politically praiseworthy work appears slightly dated, considering faction fights within the Turkish state, and new emperor Obama's plans for an intensification of the Afghanistan bloodbath.
By definition, culture lags behind the society it represents. But history seems to be speeding up, so even dedicated artists like the Stuckists will be forced to take a long, hard look at themselves and how they relate to the global situation if they want to be authentic, and 'edgy' in a good way. At least they're not afraid of being just that.