Michael Franti & Spearhead
Eclectica Music Festival
Victoria Square, St Helens
13th August 2006
Reviewed by
Photographs by Jude McLoughlin
"…we may even find a solution
To hunger and disease
We can bomb the world to pieces
But we can't bomb it into peace.*
Spearhead with Michael Franti in the middle of St. Helens on a wet Sunday night! But there they were blasting out songs of freedom, anti-war and racial harmony, in varying styles from hip hop to full on rock.
St Helens has a history of attracting big names to the Citadel, but that this was happening, outdoors, and that it was free is thanks to St Helens Council who set up the 'Eclectica' festival.
Oysterband, Ian McNabb and others had earlier performed on a stage in front of the town hall, and as Spearhead came on there was a downpour which turned into 'Billinge' rain. This only helped to heighten the feeling that something special was happening.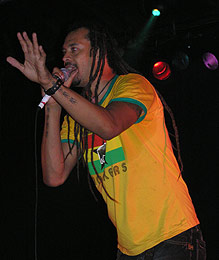 For veteran Franti lovers this was a treat. People stumbling fresh upon this amazing performance realised that his music and lyrics are something special; Franti involved the audience in clapping, waving and jumping up and down.
What shone through was his commitment to social justice, forged over many years of involvement in campaigns such as to remove the death penalty in the US, and singing on the streets of occupied Palestine and invaded Iraq.
Towards the end of nearly two hours, with the crowd totally absorbed, Franti even tried involving the security guards, stopping and starting the music and then coming off the stage to encourage them to start jumping.
Afterwards Franti mingled with the crowd signing autographs, chatting and hugging people, basically connecting with the grass roots.
Check out
*Bomb The World (Armageddon Version)