Deftones/Mnemic
, Hotham Street
8th March 2007
Reviewed by
Ever since Deftones hit the mainstream in 1997 with their sophomore effort 'Around The Fur', the Sacramento, California band have been unfairly lumped in with the then-emerging 'nu-metal' scene. Other acts such as Korn, Limp Bizkit and eventually Linkin Park were finding fame with a mixture of down-tuned guitars and a rap vocal style. Perhaps as much for convenience as for anything else, Deftones were also tagged with the much-derided nu-metal label. The fact is, however, that they were never much like those other bands. Yes, there was occasional rapping, and yes, the guitars were occasionally tuned down, but there has always more to Deftones than meets the eye. The quintet played Liverpool's Carling Academy to a crowd far more diverse than those who label the band as nu-metal would give them credit for.
Opening for Deftones were the Denmark-based band Mnemic (pronounced 'Ne-mik'). It was a solid set of aggressive and vaguely progressive metal that was easy to enjoy in the live setting, with ample opportunity for headbanging. However, that's about all that can really be said for Mnemic as a live band. Frankly, many of the songs seemed to begin with a fast intro before a 'dramatic' pause led to the verse. Also, far too many songs climaxed with the exact same stuttering 'machine gun' rhythm. In fact, it wasn't always clear if the band were in fact playing different songs, or just repeating the same one several times and hoping that no one noticed. French frontman Guillaume Bideau did his best to get the crowd going, but with mixed results. Not that Mnemic were that bad though - sound problems did let them down slightly. If you don't think too much about what you're witnessing, the band will come across as an adequate and fairly entertaining substitute for 'Digimortal'-era Fear Factory.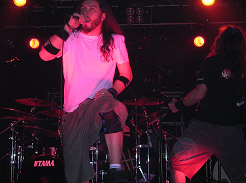 The Academy was almost packed by the time the main act was due on stage (lack of ticket sales was presumably the reason for the late venue change from Mountford Hall at Liverpool University). Inevitably after thirty minutes with no music and thirty minutes of an uninspiring supporting act, adrenaline was high as Deftones took the stage, with the loudest cheer of all being reserved for the entrance of lead singer Chino Moreno. Moreno seemed visibly nervous at first, but as the band began to play - storming through superb renditions of old hits 'My Own Summer (Shove It)' and 'Be Quiet And Drive (Far Away)' - he was transformed into the charismatic frontman that fans know from Deftones music videos.
This was Deftones' first UK show in support of recent fifth studio album 'Saturday Night Wrist', and as might have been expected, the band was on top form throughout. Moreno's vocals were enthusiastic and crystal clear, with his versatile voice soaring, screeching and roaring with as much finesse as on record. Guitarist Stephen Carpenter was a joy to watch, changing axes for almost every song, whilst DJ/keyboardist Frank Delgado was barely noticeable - a sure sign that he played his part in the proceedings with expert precision. However, it was the rhythm section that held it all together. Chi Cheng's bass playing and Abe Cunningham's idiosyncratic drumming style were so tight that it would have been easy just to ignore the other musicians for minutes at a time, focusing on what they were doing instead. On the other hand, you'd have been a fool to do that, missing out on a bloody good time. On the floor, the crowd was making the most of the Deftones live experience - singing, screaming, headbanging, crowd surfing and slamming into each other as is customary at a metal concert.
The set was varied, with a fair share of songs from each Deftones album. There was perhaps a tad too much focus on the lighter, more melodic side of the latest release, those these tracks did serve as a 'breather' among what was otherwise a fairly heavy set. In fact, a lot of the heavier songs came across even heavier live, being performed with added intensity and relished by the audience. Aside from a few notable omissions ('Back To School', 'Minerva', 'RX Queen' and the Grammy-winning 'Elite'), fans were left entirely satisfied with a set packed with the band's most popular songs. A hard-hitting 'Change (In The House Of Flies)' was an undisputable highlight, its slow and brooding atmosphere being even more chilling in a live environment. Elsewhere, Moreno managed to pull off the diverse vocal sounds of Tool/A Perfect Circle's Maynard James Keenan, Sepultura/Soulfly's Max Cavalera and System Of A Down's Serj Tankian on their respective duets with aplomb (the blinding 'Passenger', fierce 'Headup' and haunting 'Mein').
Deftones ended the performance - and a lengthy encore - with a blistering version of the early favourite '7 Words'. It was a perfect way to end, because in true climactic fashion, it served as both a culmination and a celebration of the most exciting and energetic moments from the preceding ninety-five or so minutes. The song is a highlight of the band's debut album 'Adrenaline', but it really comes alive when performed live on stage in front of an adoring audience. No matter what songs may have been absent, 7 Words alone more than made up for that, with both band and audience letting rip with one final chaotic bout of anger and frustration. There's something about a singer and 1,200 audience members repeatedly screaming the word 'suck!' that is both frightening and beautiful.
And therein lies the crux of it. Deftones are a rare breed of metal band in that they are capable - when they want to be - of effortlessly creating music that is simultaneously heavy and discordantly and jarringly beautiful. What's more, when they choose a more subtle approach, their keen ears for new sounds and their willingness to experiment are unmatched by other 'nu-metal' bands. So, while the likes of Korn and Limp Bizkit are fading into the wilderness, Deftones - despite recent 'split' rumours prior to the release of Saturday Night Wrist - are still streets ahead of their peers.
For more information on these bands, visit the following websites.